Innovative Companies Get a Nod From Connect
Monday, December 19, 2005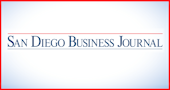 The winners of San Diego's 18th annual Most Innovative New Product awards were announced Dec. 9, and include businesses working to treat obesity, boost TV clarity and create safe latex.
Connect, a self-funded entity of UC San Diego that supports high-tech and life science entrepreneurs, chose the eight winners from a group of 24 finalists.
Arena Pharmaceuticals won for the biotechnology research and development category. The company developed a weight-loss drug , APD356, currently in Phase 2b clinical trial , that doesn't have serious side effects.
Freescale Semiconductor Inc. won in the communications technology category. CommASIC developed the Wireless Broadband Signal Processor, though the company was acquired by Freescale in October.
DigiVision Inc. won in the general technology category for its video enhancement cable. The product boosts detail, contrast and clarity of HDTV video.
AwarePoint Corp. won for its hardware that tracks equipment and people inside buildings. The AwarePoint Indoor Positioning System uses wireless receivers and small tags to keep track of everyone on the network.
Yulex Corp. won in the life sciences' medical devices category. The company has farmed and processed Guayule, a plant found in the southwestern United States, which is used to produce safe, allergy-free natural rubber latex. The company's latex is being used in consumer products such as gloves, condoms and catheters.
Amylin Pharmaceuticals won in the life sciences, therapeutics category. The company won Food and Drug Administration approval in March for its Symlin injection, the first non-insulin therapy approved for type 1 diabetes in the last 80 years. The drug is taken before meals to lower blood glucose, reducing fluctuation through the day.
Pixon LLC won in security technology for its real-time video processor called PixonVision PV-200. The company's processor boosts video resolution and decreases noise.
Veoh Networks Inc. won in the software category for its Internet TV peer-casing network. The product allows users with broadband connections to send TV-grade video straight from producers to consumers.
- - -
Wild Blue Yonder: Poway-based SpaceDev announced Dec. 12 that it has developed a way to launch small satellites on the cheap.
How much is cheap when it comes to satellite launches?
Less than $20 million, the company says.
The SpaceDev Mission Xcelerator Solution Program will allow commercial launches of micro- and nano-satellites.
SpaceDev recently purchased a launch vehicle from El Segundo-based SpaceX that will be used to launch multiple satellite payloads in May 2008.
- - -
Can You Hear Me Now? A San Diego company has been permanently barred from calling Verizon Wireless customers using auto-dialers and recorded messages, prohibited by federal law.
Verizon won a permanent injunction against San Diego-based Intelligent Alternatives, as well as a Florida company, as part of a court-approved settlement with the telemarketing firm.
Intelligent Alternatives agreed to pay damages of $20,000; Verizon said it would donate the money to the city's Family Justice Center Foundation.
In a release, Verizon said the two companies made hundreds of thousands of calls during the summer.
Have any technology or defense-related news? Send it to Rob Davis at rdavis@sdbj.com or call him at (858) 277-6359.