Firms Making a Big Deal About Local Market
Monday, December 19, 2005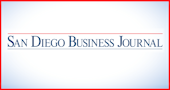 Lots of big deals coming out of San Diego's real estate community these days.
The Fremont Investment & Loan has closed on a $51.5 million loan to an affiliate of Sudberry Properties, a San Diego-based developer, for the land acquisition and planned construction of Village Walk at EastLake, a master-planned community in Chula Vista.
The 13.25-acre parcel is entitled for 157,000 square feet of Class A retail space, and is 70 percent leased to tenants that include Borders, Henry's Marketplace, Petco, Pier One and Trader Joe's.
This represents Fremont's first loan with Sudberry Properties, which developed and owns the adjacent Eastlake Village Marketplace, a 410,000-square-foot community shopping center anchored by Lowe's and Target.
Classic Residence by Hyatt at La Jolla Village has awarded Los Angeles-based Barry Design the contract for the luxury senior-living community's $130 million expansion , a 365,108-square-foot tower that will be adjacent to the current Classic Residence building in University Towne Centre on Costa Verde Boulevard.
Ponderosa Technology Park, an eight-building, 155,529-square-foot office research and development and industrial park in Kearny Mesa, has been sold by Ponderosa Technology Park LLC to an affiliate of Granite Peak Partners in Santa Barbara for $28.1 million.
The Ponderosa company is an affiliate of Irvine-based CIP Real Estate and its joint venture partner, Alex. Brown Realty, Inc.
Jeffrey Cole and Rick Putnam of Trammell Crow, Inc. and Mickey Morera and James Duncan of Burnham Real Estate represented the seller, while Michael Hefner of Voit Commercial Brokerage represented the buyer.
Skil-Bilt, Inc. has sold Heatherwood Apartments, a 155-unit building in La Mesa, to Lexington Park, Ltd., Heatherwood Partners, L.P., and Nemeth Family Trust, with R & V; Management as its managing agent, for $22.2 million.
Eric Comer and Jim Neil of CB Richard Ellis in San Diego represented the seller, while the buyers represented themselves.
KB Homes, a national homebuilder with projects in San Diego, and Shaw Group Inc., an engineering and construction firm based in Baton Rouge, La., have formed KB Home/Shaw Louisiana LLC, a joint venture to build housing in Louisiana in the aftermath of the hurricanes.
- - -
Weinrick To Join Olson: Janice Weinrick, the vice president of real estate operations for the Centre City Development Corp., is leaving to head up the Olson Co.'s Community Development Division of San Diego County.
Weinrick, who spent 13 years as the real estate veep for CCDC, will begin her new job Jan. 30. The CCDC oversees redevelopment in Downtown San Diego for the city.
- - -
Model Homes: Seahaus, the $142 million urban renewal project by Carlsbad-based Barratt American Inc. along La Jolla Boulevard, has opened two models for its million-dollar condos.
Barratt is developing this infill redevelopment project in conjunction with CLB Partners.
Three model homes are almost complete at the posh Atrium at EastLake Vistas, according to builder Bill Davidson, and are expected to open early next year. Phase 1 sales are expected to start in January, with prices starting in the low $1 millions.
- - -
Kudos: David Bright, a partner in the Escondido-based law firm of White & Bright, has been honored for his contributions to the real estate industry as the first recipient of the "Friend of the Industry" award by the North San Diego County Association of Realtors.
A lecturer in real estate law, he serves as counsel to the association.
Send residential and commercial real estate news to pbroderick@sdbj.com or via fax at (858) 571-3628.