Firms Feel Slighted in Seeking Federal Contracts
Monday, December 19, 2005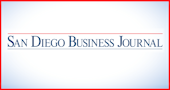 Some federal contracts earmarked for small businesses are making their way into the hands of larger firms, prompting several small-business owners in San Diego to ask why.
Those business owners, aided by the American Small Business League, are hoping to get some answers following a lawsuit filed Nov. 22 against the U.S. Small Business Administration. The lawsuit seeks to force the SBA to disclose records concerning investigations into questionable contract awards.
One of those local owners seeking answers is Stephen Batiz, a partner with a Vista-based Web design company Batiz.com, Inc., which Batiz operates with his brother, Eddie. The company, which has about 20 employees, was launched in 1998 and frequently competes with larger, more established businesses for defense contracts.
"I hate to say it, but it's all political," Batiz said. "It's about who's giving their money first to the politicians, and I'm sorry, but if you have a $500 million-a-year company with hundreds of employees, you have no business calling yourself small. That's just not right."
There are roughly "three to four dozen" American Small Business League members in San Diego, according to President Lloyd Chapman. The ASBL, which is based in Northern California's Sonoma County, dates back to the early 1990s, when it was called the Micro Computer Industry Supplier Association. Its current name was adopted in September 2004 to include other industries, Chapman said. Nationwide, the membership roster totals about 100,000, which includes members automatically enrolled in the club as members of affiliated groups.
Defining A Small Business
The definition of a small business varies greatly across industries and states and includes both size and income limits. Aside from those guidelines, the federal government also defines small businesses as those that are independently owned and operated and not dominate in their field.
The lawsuit against the SBA was filed in federal court in the Northern District of California in San Francisco. It is not the first time the nonprofit league has taken the SBA to task for its alleged favoritism to larger businesses.
"There's a pattern to this and that pattern is when you want information on small-business contracts and small-business contract protests, they won't give it to you and that right there, I think, tells you something is wrong," Chapman said.
This past summer, the league filed a lawsuit demanding that the SBA publicly disclose more facts from a 2004 government study on small-business contract fraud. Chapman said the latest lawsuit, which was filed under the federal Freedom of Information Act, won't be the last; his group already has plans for future court challenges related to the issue of large companies landing small-business contracts.
But according to SBA spokesman Mike Stamler, the lawsuits are nothing more than a personal crusade by Chapman.
"We're going to let the courts work it out," said Stamler, who declined to comment any further on the case.
In regard to the government study released this past summer and its findings, Stamler concedes that the system is flawed, but not to the extent that some small-business advocates are claiming.
"I can't say that the entire federal government hasn't classified some small businesses that are large," Stamler said. "I don't think anyone can for sure, but it's not a conspiracy."
Last year's government study on small-business contract fraud was conducted on behalf of the SBA by Virginia-based Eagle Eye Publishers, a research firm specializing in the government contract market, both large and small. According to the study, records from 2002 show that 44 of the top 1,000 small businesses receiving federal contracts were not actually eligible to apply for them. The study suggests one reason big companies receive small-business contracts is because when larger companies acquire smaller ones, they sometimes continue to operate separately, giving the impression that a small business is still small when in fact it is still under the wing of a large corporation.
The 44 contract recipients that were actually ineligible for the small-business contracts they received in 2002 collectively took in $2 billion of the $50.8 billion total contract awards given to the top 1,000 small businesses that year. Defense and general services accounted for the majority of those small-business contracts given to big companies.
Eagle Eye Publishers also compiled a list of the top 10 small businesses in California to receive federal prime contracts in 2004. Carlsbad-based ViaSat, Inc. ranked No. 5 on that list. ViaSat has more than 1,000 employees, has offices in five states and earned roughly $345 million last year.
ViaSat spokesman Bruce Rowe said he was surprised to see ViaSat on that list, but after some research, attributed the ranking to a government contract received by the company five years ago when it was eligible for a small-business contract under SBA guidelines. In 2000, ViaSat received what was initially an $11.7 million contract to provide the Department of Defense with MIDS, or multifunctional information distribution systems. At the time, ViaSat had about 400 employees and annual revenues of about $75 million. Five years later, that contract is still active and has earned ViaSat about $350 million, Rowe said.
MIDS is a system that collects battlefield data, including troop positions and target coordinates, then relays the information digitally to the system operator, usually a pilot.
No other San Diego-based companies made the list, but at least six of those listed have more than 1,000 employees, and at least three reported more than $100 million in annual revenues last year.
"It's hard because we're a small Web designing shop and you got Boeing and Lockheed Martin and all those other types out there and they all have in-house Web shops," said Batiz of Batiz.com. "It's not that they're better than us as far as the quality of the work goes, it's just that the government knows those guys because they already have big contracts with them, so they're quicker to just hand over the smaller stuff to them without blinking an eye."
Aside from being a small business, Batiz.com is certified as a minority-owned business, another category that is suppose to receive a certain allotment of government contracts in order to encourage diversity in the country's business community. But Batiz said that his company's minority status has helped secure government contracts only "two, maybe three times in five years."
"It's like you're beating your head against the wall, especially in our business of Web design because there is so much competition out there, and you think being a (minority-certified) business, it'd make a difference, make things a little easier, but it really doesn't," Batiz said. "I'm sure there are some (minority) businesses out there that it has helped, but we're not one of them and I don't think we're the exception."