Bankers Show Their Thanks to Region's Service Members
Monday, December 19, 2005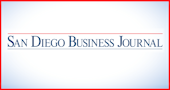 Spurred by the loss of an employee's Marine Corps son in Iraq, Vineyard Bank decided to do something to show its appreciation for the sacrifices members of the military are making there.
Earlier this month, the Rancho Cucamonga-based bank, which has a branch in San Diego and loan production office in Carlsbad, sponsored a group of 100 Marines and their families for two days at Disneyland, including hotel accommodations, entrance to the main park and Disney's California Adventure, as well as spending money.
"Not only was this our way of saying thank you to the military personnel who so selflessly defend our country each and every day, it was also a way for Vineyard Bank to set an example , to be a guiding light for other businesses to generously give back to our communities and to the people who defend those communities, not just during the holidays but all year long," said Vineyard CEO Norm Morales.
Morales said he became more engaged in supporting the nation's military after learning several of his employees had family serving in the Iraq war, including one who lost a son in December 2003.
To commemorate the bank's support of the troops, Vineyard built a fountain in its headquarters lobby. It also worked with Marine Corps Community Services, Camp Pendleton to come up with the idea of the Disney getaway. In all, including family members, the bank hosted some 400 people.
Besides its laudable effort to give back to the troops, Vineyard business operations this year are showing a nice harvest. This year it was recognized as the fourth fastest-growing company in the Fortune 100 fastest-growing list. As of the end of September, the bank reported total assets of $1.7 billion, including $1.3 billion in loans. That was 28 percent increase over the total assets at the same time last year.
The San Diego office, headed by Patti Lazard, recently expanded by the hiring of three experienced bankers: Pamela Anderson, Monique Gephart-Perez, and Judy Reynolds.
Vineyard's other full-service offices are in Los Angeles, Orange, Riverside, and San Bernardino counties.
- - -
Southwest Makes The Index: Carlsbad-based Southwest Community Bancorp was added to the America's Community Bankers Nasdaq Index this month.
The inclusion in the index of 532 community banks should generate more visibility for the bank's stock nationally, said CEO Frank Mercardante.
Traded under the ticker SWBC, it was at $32 as of Dec. 15, but that's down 15.5 percent from a year ago.
Southwest, with assets of $606 million as of Sept. 30, reported net income over three quarters of $6 million, excluding income derived from the sale of its item processing subsidiary, up 78 percent from the prior year's three quarters.
- - -
Wachovia Addendum: A story in the Dec. 5 San Diego Business Journal detailed some aspects of Charlotte-based Wachovia Bank entering the San Diego market next year through two acquisitions, but neglected to mention another purchase that involved Union Bank of California.
Union Bank sold Wachovia its international correspondent and trade business for $245 million in a cash deal that closed Oct. 6.
The business has about 400 employees who are mainly based in New York and included two people here, said Union Bank spokeswoman Joann Curran.
Wachovia completed the acquisition of San Diego-based AmNet Mortgage Inc. Dec. 12 following a majority approval of AmNet's shareholders on Dec. 8.
Under terms of the $83 million deal that was struck in September, AmNet will operate as a wholly owned subsidiary of Wachovia but retain its name and its San Diego headquarters, where some 250 are employed. The entire firm has about 1,000 employees throughout the nation.
The company did not reveal what the exact percentage of approval the transaction received, but one of its largest shareholders, Flagg Street Capital, had filed a letter objecting to the sale because the price was too low. Shareholders received $10.30 per share, or about 5 percent above the market price when the deal was announced.
AmNet funded $9 billion in home loans last year and is on track to crack $14 billion this year.
The larger Wachovia deal affecting San Diego was its buy of Westcorp and its subsidiaries, WFS Financial and Western Financial Bank, both based in Irvine.
Western Financial Bank is a savings bank that has 19 branches, including three in San Diego County.
WFS is one of the nation's largest auto lenders with a portfolio of about $12 billion. At the time the deal was struck in September the estimated price Wachovia paid for Westcorp was $3.4 billion. Westcorp, 54 percent owned by San Diegan and founder Ernest Rady, holds a special meeting to approve the Wachovia deal Jan. 6.
Earlier this month, Wachovia announced that Frank Newman will be its Southern California regional president and chief operating officer. George Swygert was named as the bank's California retail banking executive. The positions are to be based in the Los Angeles area.
- - -
Wells Fargo Is Recognized: Wells Fargo & Co., parent of Wells Fargo Bank, was ranked the ninth most generous corporation in the nation in donations to nonprofit organizations by Business Week magazine, based on its 2004 giving.
According to a recent article, the San Francisco-based financial services company donated $93 million last year to various nonprofits.
Wells Fargo, which operates 90 banking offices and has about 3,000 employees in San Diego County, will contribute about $2.4 million by the end of this year to 336 nonprofits and schools locally, the company said.
- - -
Fast Start: Temecula Valley Bank's newest office in Carlsbad is off to a fast start. Since it opened Oct. 11, the branch has already gathered $17 million in deposits, according to a bank press release.
The branch, Temecula Valley's seventh, is managed by Don Schempp, who knows the territory very well as the former CEO of Capital Bank of North County, which was acquired by First Community Bancorp in 2002.
- - -
Small Change: Financial 21 Community Credit Union sold its headquarters office at 440 Beech St., but will continue at the office when the full block completes redevelopment to include 400 new condos. California Credit Union league selected Receivable Acquisition Management Corp., with offices in Del Mar and New York, as its purchaser of charged off loans made by credit unions in California and Nevada.
Send any financial news about banks and local financial services companies to Mike Allen at mallen@sdbj.com. He can be reached at (858) 277-6359.