An Uphill Battle
Monday, December 19, 2005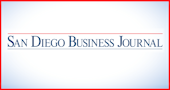 In a cramped upstairs office in Mission Valley, Stan Ferdyn is doing his small part to chip away at an industrywide problem.
Ferdyn is speaking to a half-dozen people at his regular Tuesday recruiting meeting, hoping to bring a few of his listeners under the wing of his employer, Cedar Rapids, Iowa-based CRST International. CRST needs truck drivers. Long-haul drivers who can be away from home for weeks at a time.
In the room on this December day is a man who recently obtained U.S. citizenship, who says he wants enough years of employment to qualify for Social Security. There is a 54-year-old veteran of trucking and construction who says he is looking for benefits. The only female applicant is a recent transplant from South Carolina who has experience driving dump trucks.
They are here because the long-haul trucking industry has a problem. There is a shortage of drivers. Nationally, that shortage is 20,000 people, according to the Virginia-based American Trucking Associations.
Making things more difficult for companies like CRST is churn, the phenomenon of drivers hopping from one job to another. Large truckload carriers reported an average annual turnover of 121 percent last year, according to the ATA. That means companies have to do a "substantial amount of hiring," according to a study that the industry association commissioned from Global Insight, Inc. and released in May.
A Rocky Road
Ferdyn holds the only desk job CRST has in San Diego; by his estimate the company has "a couple hundred" drivers based in the area. Ferdyn's job is to look for more. In the cramped office he asks his guests to give their names, work histories and favorite flavors of ice cream.
He tells prospective hires that winter is an excellent time to train because the weather is so varied across the United States. CRST, which is privately held and does not disclose revenue, offers a truck-driving course in exchange for eight months' work from a trainee. Classes are held in Fallbrook or Fontana.
He talks up the company's benefits package. It includes immediate medical coverage and guaranteed "home time." That is, if a driver wants to be home Feb. 28, the company can make it happen, Ferdyn says.
And he warns listeners of promises that competing companies might make. "I'll never lie to you," he said.
Blame the economy for the driver shortage. When the economy does well, trucking tends to lose drivers to other blue-collar positions such as construction or manufacturing, said Tiffany Wlazlowski, a spokeswoman for the ATA.
Dave Berry, a vice president with Phoenix-based Swift Transportation Co., says 2005 is the tightest recruiting market he has seen in five years. The pool of applicants is smaller, he said, and competition for those applicants is more intense.
"The economy is good. There are lots of jobs out there," said Berry.
The driver shortage began in earnest in 2003, said Larry Shaevitz, the vice president of capacity development for CRST. "Virtually every company has been hit by an inability to grow," Shaevitz said.
No Shortage of Business
Indeed, the lack of drivers is a major limitation to the amount of freight that trucking companies can haul, the ATA said when it introduced its May survey. Certainly, there is the business. The industry is hauling more freight than ever, the trade group said. "But the ability to add truck capacity is based on the market's ability to find drivers," ATA Chief Executive Bill Graves said at the time. "A tight driver market will keep capacity tight."
So trucking companies are on the hunt.
It's late November and David Pumphrey, a Fontana-based recruiter for Swift Transportation, is on a two-day swing through San Diego.
Swift is a truckload carrier that reported $2.8 billion in revenue during 2004. The company employs roughly 200 people in San Diego, maintaining a 7-acre terminal in Otay Mesa.
Twenty people turned out for a Swift hiring fair at the South Metro Career Center in San Diego, and by now the group has dwindled to four. They chat with Pumphrey as they turn in their paperwork. One tells him of a bad experience with a competing carrier. Pumphrey nods understandingly.
Pumphrey said salary is one way he sells his industry. Trucking, he says later, is a blue-collar industry where people can make a white-collar income. A third-year salary can top $55,000, he said.
But it's not just money that motivates truckers, argue the recruiters from CRST.
Employers pay truckers by the mile, and every company pays about the same per mile, said CRST's Shaevitz. He maintains that working conditions make the difference between whether an employee stays or leaves. Home time is the No. 1 issue in a person's decision to leave a company, Ferdyn said, adding, "that's where we excel."
Demographics are about to make life harder for CRST, Swift and their competitors. The same study that says the long-haul trucking industry is short 20,000 drivers predicts the industry will be short 111,000 drivers by 2014. Part of the reason is that the number of white males ages 35-54 , the people most likely to get behind the wheel of a big-rig , will decline in the coming decade.
The ongoing shortage could even cause wage increases , which the ATA calls imperative. The November cover story in Overdrive Magazine, an industry journal, predicts today's midrange driver salaries of $40,000 to $50,000 could hit $80,000 within 10 years.