Jobless Rate Down to 4.2 Percent
Friday, December 16, 2005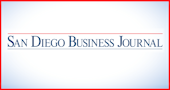 Unemployment in San Diego during November dropped to 4.2 percent from the preceding month's 4.4 percent, according to the latest report from the state's Employment Development Department.
In the past month, the area's non-farm employment grew by 5,600 to reach 1,289,600 jobs.
The biggest contributor to last month's figures came from the retail sector increasing by 3,800 as the stores geared up for the Christmas shopping season. Government also added some 1,700 jobs due to hiring in local education. However, jobs in construction fell by 700.
During the course of the year from November 2004, the construction industry has increased by 5,100 jobs, second only to 6,200 jobs created in leisure and hospitality.
Education and health services was the third largest generator of local jobs with 4,100.
The sectors that recorded the largest declines were manufacturing, where 500 jobs were lost, and professional and business services, which showed a loss of 100 jobs.
San Diego's November unemployment rate again was below that of California's at 5.1 percent, and the nation at 4.8 percent.
, Mike Allen