Professor's Economic Index Slides
Thursday, December 15, 2005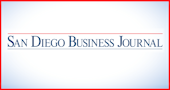 An index measuring San Diego's overall economic health dropped for the third consecutive month, but the declines were not significant or cause for great concern, according to the University of San Diego economics professor who compiles the data.
USD's Index of Leading Economic Indicators for San Diego County dropped 0.5 percent in October and 0.1 percent in September following a 0.1 percent decline in August.
However, Alan Gin, the USD professor, said the local economy is basically on a stable trajectory.
"The forecast is that San Diego County is likely to experience continued economic growth for the year ahead, although it may be a little slower than in recent years," Gin said in a report released Dec. 15.
The two-month report showed declines during both months in the number of building permits issued, the local consumer confidence index, and in the amount of help wanted advertising lineage.
The only component that was positive for both months was decreased claims for unemployment insurance.
Gin forecast that next year the San Diego area would see a net gain of about 17,500 jobs, and the unemployment rate would increase to 4.5 percent.
As of October, the county generated an increase of 15,800 jobs over the same period in 2004, according to the state's latest job report. The unemployment rate then was 4.4 percent.
, Mike Allen