Sanders Names More Associates
Wednesday, December 14, 2005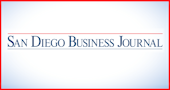 San Diego Mayor Jerry Sanders on Dec. 13 added two more people to his new administration.
Jay Goldstone, Pasadena's director of finance, will become San Diego's first-ever chief financial officer, while Rich Haas, now serving as assistant director of the county's Department of Environmental Health, will become deputy chief of public works.
Sanders' prior appointments include Ronne Froman as his chief operating officer; Jo Anne Sawyer Knoll, head of the city's new ethics and integrity office; and Kris Michell, head of the community and legislative services office.
Goldstone will oversee all aspects of municipal finances, including the preparation of the annual budget and issuance and management of debt, and will oversee the city auditor, said Sanders.
"Of special importance for us, Jay also developed a debt policy for the city of Pasadena that was cited in a Fitch Ratings report as a model for other debt policy," said Sanders.
Goldstone will assume office on Jan. 23.
Haas, a retired Navy captain in the Civil Engineer Corps, will immediately assume his post, and will "become a key member of the team that audits all city processes," said Sanders.
Haas is a registered professional engineer, and holds a master's degree in construction management.
, Pat Broderick