The Godmother of the Gaslamp
Monday, December 12, 2005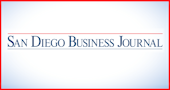 Shortly before her book signing at Nordstrom in Horton Plaza , an exclusive event for invitation-only shoppers earlier this month , well-known local restaurateur Ingrid Croce learned that the first shipment of her newly published "San Diego Restaurant Cookbook" had been accidentally routed to another state and wouldn't arrive on time.
After putting in a full day at her office, some of which was spent trying to track down the errant shipment, Croce, who owns the longtime Downtown fixture Croce's Restaurant & Jazz Bar, could easily have bowed out of the evening's engagement. Instead, she stacked her table with copies of "Thyme in a Bottle" , her first cookbook published in 1996 , wrapped them with the missing tome's jackets that arrived in a separate shipment and began taking orders. She also had an editor's proof on hand to give an impression of what the new book would look like.
"We're doing OK," she said after an initial wave of patrons thinned out. "I've taken 60 orders," she added as she sipped a Cosmopolitan , drinks courtesy of Nordstrom , and danced a solo jig to the tunes of a live combo stationed between the escalator and the perfume counter.
The successful restaurateur, author, record label owner, one-time traveling troubadour, mother, grandmother and keeper of the talent flame of her late husband, 1970s folk-rock star Jim Croce, was born Ingrid Jacobson in Philadelphia in 1947.
Among her earliest accomplishments, she was the first Jewish girl to break through a prejudicial barrier and join Springfield High's cheerleading squad.
Now known as the Gaslamp Quarter's pioneer in recognition of her highly successful eatery, which opened there in 1985 and kicked off the famed Downtown district's redevelopment, Croce is a woman who has turned challenges, including years of litigation to win back artist royalties for her and Jim Croce's music, into triumphs. In many ways, she's still a cheerleader, particularly when it comes to promoting San Diego's hospitality and tourism industries.
"I've been in lots of situations," she said. "But I don't cry the blues. I've done well, and I believe in backing my community."
Cooking Up A Book
In her latest cookbook, a compilation of more than 260 recipes from some of the county's top eateries, she's letting the world know that San Diego has a culinary scene worth shouting about.
The book was conceived last year during her efforts to institute and organize San Diego Restaurant Week, an annual event patterned after similar promotions in New York, Philadelphia, Boston and Atlanta. While roughly 70 restaurants participated in the first fest, the second, scheduled for Jan. 15-20, is expected to include 110.
Reint Reinders, president and chief executive officer of the San Diego Convention & Visitors Bureau, who honored Croce with a special President's Recognition award in late November, said, "Ingrid is a person who always asks what she can do for the betterment of the Gaslamp Quarter, the restaurant industry and ConVis."
"Unlike many, she doesn't ask, 'What are you going to do for me?' " Reinders added. "She truly believes that the local restaurant industry deserves more recognition and she worked very hard to put together a marvelous cookbook to make it happen. She's a passionate person.
"She's been a force in the community for more than 20 years. She took a chance going into the Gaslamp when there was nothing there but hookers and tattoo parlors."
Croce says what drew her to the Gaslamp Quarter was the realization that it offered incredible promise. In 1984 she opened a small bakery and coffee shop, Blinchiki, in Hillcrest. A year later, she moved the operation into larger quarters in Horton Plaza and renamed it Croce's Coffeehouse.
Simultaneously, she opened Croce's Restaurant in 5,000 square feet at Fifth Avenue and F Street. Between 1985 and 1988 it expanded to 20,000 square feet and became Croce's Restaurants & Jazz Bars.
She laughs at being called a pioneer.
"I think of someone who arrived in a long dress and a bonnet," she said.
A petite, slender woman, she has the presence of someone accustomed to being in the spotlight. She should. As a singer and songwriter who teamed with Jim Croce in her teens, the couple cut their first album together, "Jim & Ingrid Croce," and later toured the country on the college circuit.
In her first cookbook, an autobiographical mix of memories and recipes, she describes her move with her toddler son to San Diego in August 1973 as an escape from the loneliness of a Pennsylvania farm where she'd lived while her husband toured almost nonstop.
Away on the road when Ingrid and her son, Adrian James, nicknamed A.J., traveled west, Jim Croce joined them a month later, staying only briefly before leaving on what was to be a one-week stint. A few days later, she received an early morning phone call informing her that Jim had died in a plane crash in Louisiana.
To Croce, the restaurant venture , a choice she made after a failed vocal cord operation ended her plans to resume her singing career , was born out of the desire for self-expression and to keep the legacy of her late husband alive. But it was also a way to support herself and her son.
"I get the impression that people think I had a lot of money when I started my business," she said. "I had some royalty money, yes. But I wasn't rich. I started Croce's Coffeehouse in the pre-Starbucks days and was very successful.
"People loved the aroma of our fresh-baked muffins. The money I made there I reinvested in Croce's Restaurant."
She closed the coffee shop in 1995 at the expiration of her 10-year Horton Plaza lease. It helped to fund her Gaslamp Quarter venture and also served as its sales office.
"I'd tell customers about the restaurant and I'd actually escort them over there," she said, describing how people were leery of leaving the safety and security of Horton Plaza, a fortress in the midst of a decayed Downtown.
Asked how much revenue the restaurant made in those days, she said, "I probably lost $150,000 a year during the first couple of years, and after that we started making money.
"I actually got a salary then, but it wasn't much. It amounted to whatever my accountant told me I needed to get Medicare. The business didn't really start to do well until the late 1980s, when the convention center expanded and other restaurants started to come in."
For the past 15 years, Croce said her business has averaged annual revenues that range from $5 million to $7 million.
Asked what lies ahead, she said she is looking forward to the CD of "Have You Heard Jim Croce Live," which is scheduled for release at the end of January on the Shout! Factory label under a partnership between the Croces and Shout! Factory.
A.J. Croce, who started his musical career playing in his mother's restaurant, will have three new releases coming out on his own label, Seedling, she added.
She also said that she and her second husband, Jimmy Rock, a one-time San Diego attorney who is now her business partner, will take time, as they do each year, to reflect on the core values of the Croce brand, where it's been and where it's going.
"We'll focus on what's important and what is the authenticity of Croce's, basically the honesty and integrity of the brand," she said.
Never having considered expanding Croce's outside of San Diego, Rock said that if the right opportunity came along the couple might entertain it.
"I don't know, though. Ingrid likes to work in a very hands-on fashion. But it's not as if there's something in the works," Rock said.
Croce said she's been approached on the idea of franchising in the past, but dismissed the notion.
"The only way I'd consider doing that is if it was a small location that could be modeled after the original Croce's," she said. "It would have to be someplace where I could visit and do guest appearances, and the menu would have to stay true to the menu here.
"It would also be important that there'd be the opportunity for live music. Aside from being a restaurant that serves great food, the important thing about Croce's is the live music playing all the time."