Small Business Spotlight: Skinsational Skin & Body Spa
Monday, December 12, 2005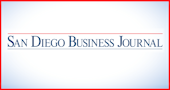 As the owner of Carlsbad's Skinsational Skin & Body Spa, Joyce Carboni knows that small-business ownership is in her blood.
"My family always owned a business," Carboni said. "They were in the clothing industry back East and I think it goes back to that; I love being my own boss , it gives me great satisfaction."
Carboni opened Skinsational in 1997 and in August moved her business from a 1,500-square-foot suite to a 5,000-square-foot space in the same commercial complex. It's a move Carboni is hoping will double, if not triple, her annual revenues.
"We really couldn't do more four months ago because there was no room," she said.
Now that the relocation is complete, some stress has been lifted from Carboni's shoulders, but as a small-business owner, there are always days that can challenge Carboni's patience. While that may be a common thread among small-business owners, Carboni has the extra challenge of having to maintain the relaxing, soothing spa environment her customers are seeking. She counters that challenge by practicing what she preaches.
"I really encourage my staff to have treatments," she said. "I tend to get massages on a regular basis. As a team, we need to be relaxed and comforting for our guests."
VITALS
Name: Joyce Carboni.
Title: President.
Company: Skinsational Skin & Body Spa, aka Skinsational Day Spa, Inc.
Address: 300 Carlsbad Village Drive, Suite 124, Carlsbad.
Year founded: 1997.
Prior business experience: Worked in corporate environment as administrative assistant/secretary; 20 years' experience working in the beauty/spa industry (licensed aesthetician since 1983).
Average hours worked per week: 40 hours in spa, 20 hours outside spa.
Source of startup capital: Personal savings and bank loan.
2004 revenue: $582,000.
2003 revenue: $569,000.
Number of employees: Eight full-time, two part-time.
Web site: www.skinsationalspa.com.
BACKGROUND
Birthplace: Boston.
Education: Graduate, Katherine Gibbs Business School, Boston; and Career Academy of Beauty, Seal Beach.
Age: 55.
Current residence: Carlsbad.
Family: Husband Joe; daughter Lauren, 17.
JUDGMENT CALLS
Reason for getting into business: Passion for the spa industry and an entrepreneurial spirit.
How I plan to grow the business: Completed a move/expansion of spa from 1,500-square-foot location to 5,000 square feet in August. Provide excellent continuing education for my staff.
Biggest plus of business ownership: Watching Skinsational grow with hard work, persistence and perseverance.
Biggest drawback: A workday without end.
Biggest business strength: Providing excellent customer service in a totally relaxing and rejuvenating environment.
Biggest business weakness: Consistently finding qualified staff members.
Biggest risk: Expanding to a 5,000-square-foot location.
Smartest business decision: Starting Skinsational in Carlsbad in 1997.
Biggest business mistake: Not having a hiring process with employment testing from the beginning.
Toughest career decision: Starting a business during a recession.
Biggest ongoing challenge: Finding and hiring the best in our industry.
The most important part of my business: Making sure our guests always receive excellent customer service and the highest quality treatment.
My business works best when: We all work as a team: owner, management and Skinsational spa staff.
Best way to stay competitive: We treat our clients as if they are guests in our home; excellent customer service is the key and keeping in tune with the latest spa trends.
How I measure success: When I hear a guest say, "Why didn't I come here sooner?"
STILL TO COME
Goals yet to be achieved: Growing our medi-spa part of the business.
My five-year business plan: Continued growth in our new location and maintaining the "outstanding Skinsational day spa experience."
I would sell my business only if: I were ready to retire.
Guiding principles: Trust my instincts and consistently strive to deliver a mini-escape from life's everyday stresses of our clients.