San Diego People
Monday, December 12, 2005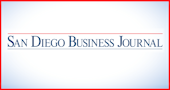 Executive Spotlight: Robert Richley
Robert Richley has been named president of Douglas Wilson Cos. In addition to his new responsibilities, he will continue as chief operating officer and general counsel. Richley joined the company four years ago as senior vice president for client services. Richley was previously an attorney specializing in business litigation at Duckor Spradling & Metzger. He is also a banking and management executive veteran and has served as president and chief executive officer for First National Bank.
Banking and Finance
Dan Montgomery has rejoined Lavine, Lofgren, Morris & Engelberg, LLP, where he will be working with the firm's tax practice in large corporations and multi-state operations. Northern Trust Personal Financial Services has appointed Brian McDermott as the regional fiduciary manager for its trust administration department and hired William Guthrie. Guthrie will join the team of trust administrators. Dianne Smyth, a financial professional with the Sterling Group, a division of AXA Advisors LLC, has been reappointed to the Sterling Group Advisory Board. Smyth has been with AXA Advisors for 15 years. James McPheters, the president and chief executive officer of California Coast Credit Union, has been named California Coast Credit Union League chairman. Joseph Schroeder has been named president and chief executive officer of San Diego Metropolitan Credit Union. Schroeder has more than 25 years' experience in management and marketing for credit unions and most recently served as president and chief executive officer for Financial Partners Credit Union.
Construction and Design
Walter Conwell has joined Sillman Wright Architects as an executive architect. He will be responsible for the firm's ongoing marketing strategies and continue to complement the firm's design efforts. Conwell has more than 37 years of industry experience and his expertise involves providing architectural facility planning for large corporations.

Government and Nonprofit
Escondido City Manager Clay Phillips has promoted Charles Grimm to deputy city manager and Jonathan Brindle to planning director. Grimm has been with the city of Escondido since 1990. Brindle has been with the city of Escondido for 25 years and has served as assistant planning director since 1988. Nancy Jamison has succeeded Julie Holdaway as executive director of San Diego Grantmakers. Most recently, Jamison worked with TrustWorks Group and has also served as a consultant, volunteer and board member to numerous nonprofit organizations and associations. Nonprofit Management Solutions has elected Roi Ewell as vice president of human resources; Zachary Fielder as senior financial adviser; and Doug Sawyer as chief executive officer and president to its board of directors. Episcopal Community Services has elected Robert Ellsworth, Ann Dick, John Witt, Marie Tuthill, Charles McGill, Rex Downing, Andrew Duvall and Vincent Blocker to its board of directors.
Health Care and Biotech
Martha Susan Compton has been named care center administrator at Classic Residence by Hyatt at La Jolla Village. The Burnham Institute for Medical Research has appointed Blair Blum as senior vice president of external affairs. She will manage the institute's private fund raising. Blum comes from serving more than 15 years at San Diego Hospice and Palliative Care. Conforma Therapeutics Corp. has appointed Thomas Estok to chief commercial officer. He has 20 years' experience in development and commercialization of pharmaceuticals. Most recently, Estok served as vice president of U.S. marketing and commercial development within the oncology franchise.
High-Tech and Manufacturing
Dan Howard has been appointed regional director of sales and marketing for Inovium. Toppan Optical Products, Inc. has hired Kevin Limbach as manufacturing manager and Masao Kaji as sales manager. Most recently, Limbach served as the senior director of manufacturing at Callaway Golf and Kaji served as the sales and development manager at Icom Corp. Calnet Inc. has hired Leslie Carter as director of business development. Carter will be responsible for development of the information technology and telecommunications consulting practice in the West Coast. She has more than 20 years of technology and management consulting experience and most recently was partner for Team One LLC. Greg Hallinan has joined Verve Wireless, Inc. as vice president of marketing. Most recently, he was vice president of marketing for NTN Communications.
Law
Procopio litigation partner Maureen Hallahan has been elected president of the Association of Business Trial Lawyers for a two-year term.
Media and Marketing
Blue Mine Group has appointed Eric Linxwiler to director for the company's sales practice. Linxwiler has more than 16 years of domestic and international experience, growing sales revenues and increasing profitability for technology companies. Most recently, he served as Western regional sales director at WR Hess Oil Co.
Real Estate
Joanne Rizza Williams has been promoted to first vice president of accounting at Evanco Realty Advisors, Inc. She has been with the company for two years and has more than 30 years' experience in the accounting field. Kathy Foley and Jerry Simons have joined Re/Max of Rancho Bernardo as real estate sales agents. Foley was previously a flight attendant for United Airlines for 34 years and Simons was an architect for 35 years.
Restaurants and Hotels
The Ladeki Restaurant Group's corporate sommelier and general manager of Blackhorse Grille, Megan Burgess, has been promoted to director of restaurants for the company's four restaurants.
Awards and Recognition
The Association of Pool & Spa Professionals' 2005 Award of Excellence recognized California Pools with 28 awards, including the Chairman Award. The United Jewish Community honored the Jewish Community Foundation, San Diego chapter, with the Community Excellence Award. The Associated General Contractors of America, San Diego chapter, awarded Barnhart, Inc. with a Build San Diego Award in the private work, small project category under $5 million. Glen Schmidt, a principal of the Schmidt Design Group, has been inducted as a fellow in the American Society of Landscape Architects. The California Escrow Association has recognized the North San Diego County Escrow Association as the region with the highest percentage of increase in professional designation members. "Earning a CEA professional designation has become a vital tool for success and recognition in the escrow profession," said Tammy Dalbey, North San Diego County Escrow Association's president.
Philanthropy
Leslie Davis of Davis Marketing has sent eight employees to New Orleans as Christmas elves to help relief workers with their personal needs such as laundry, errands, grocery shopping and delivering meals.
The Associates Financial Group, Inc. will host its sixth annual Christmas party in support of North County Solutions for Change. Gifts from the Associates and other supporters will be presented to children in need.
, Compiled by Stacey Bengtson