Navy's Newest Class of Ships Headed to S.D.
Monday, December 12, 2005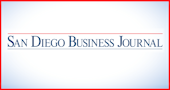 The Navy announced plans to base the USS Freedom in San Diego. It's the first of a new class of ships to have a home port.
The Freedom, a small combat ship manufactured by Lockheed Martin Corp., is designed to patrol coastal waters to search for mines, diesel submarines and fast-surface ships.
The ship has a top sprint speed of 40 knots and a range of 3,500 nautical miles, according to specifications posted at globalsecurity.org, a nonprofit defense think tank.
It would hold a crew of between 50 and 75 sailors.
Such a small crew may not have the impact on San Diego's economy that an aircraft carrier does. But the Freedom's deployment here could create a stir for the research and development community, said Larry Blumberg, a retired Navy captain who sits on the San Diego Military Advisory Council, a local defense advocacy group.
Blumberg said it is hard to estimate how much work would come to San Diego along with the Freedom. But local companies could reap benefits by developing technologies that would complement the ship's varied missions, Blumberg said.
"To have the first one here," he said, "seems to me is going to mean a lot for the economy." The aircraft carrier USS Nimitz, by comparison, has a crew of 2,500 and annually pumps $270 million into the local economy, according to a San Diego Regional Chamber of Commerce estimate.
The Navy has discussed building as many as 60 of the littoral combat ships, according to published reports. No plans have been announced for where others may be based.
The Freedom is expected to arrive in San Diego in early 2007.
- - -
Securing Water: They can't say where, but a San Diego-based company's technology will monitor the quality of a major U.S. city's drinking water.
In January, JMAR Technologies Inc. will install the BioSentry to ensure there are no harmful bacteria in a municipal water supply. By the end of March, they'll have a report on the water quality and the effectiveness of the BioSentry. And then they'll announce where the test took place.
The company declined to provide the value of the contract.
Hikers might want to take note. Any backpacker who's patiently filtered and boiled mountain spring water knows one of the microorganisms the BioSentry is looking for: the dreaded cryptosporidium parasite. Or more commonly, just crypto.
The Centers for Disease Control and Prevention terms the parasite a "diarrheal disease."
'Nuff said.
The BioSentry uses a laser to monitor for contamination. Any particle that passes by the laser scatters light , and the reflection spits out a unique pattern. The device uses that pattern to quickly identify any harmful bacteria in the water.
The BioSentry is also being tested by a Mexican beverage company, a municipal water district and aboard a major cruise ship to monitor drinking water quality.
JMAR Technologies trades on the Nasdaq under the symbol JMAR. It closed Dec. 6 at $1.12.
- - -
Speeding Up: Users of Cox Communications' premier high-speed Internet service got a speed boost, the Atlanta-based company announced recently.
Maximum download speeds were increased from 5 megabytes per second to 9 MB per second.
The service costs $54.95 monthly for Cox's Internet-only customers.
Please send any defense or technology related news to Rob Davis at rdavis@sdbj.com or (858) 277-6359, Ext. 3108.