Kintera Continues to Struggle as Provide Commerce Moves On
Monday, December 12, 2005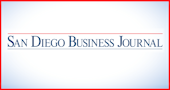 The announced sale of Provide Commerce, the San Diego-based holding company of ProFlowers.com and several other e-commerce sites, to Colorado-based Liberty Media Corp. last week for $477 million contrasts with the unspectacular performance of Kintera, Inc., another local Internet firm that held its initial public offering at the same time , in December 2003.
While Provide Commerce is turning a profit and soon will provide its shareholders with a tidy return on their investment, Kintera continues losing money, and its stock was recently trading about half of its initial public offering price of $7.
Both companies use the Internet to conduct business. Provide Commerce really delivers goods via the technology, primarily flowers, and fresh meat and produce. Its customers are individual consumers.
Kintera supplies software and support to nonprofit organizations to help them organize and manage their fund-raising efforts.
Even in a year when donations and fund raising is at an all-time high, with the devastating hurricanes that wreaked havoc in the Southeast, Kintera continues to seek additional funding from investors to maintain its operations.
Last week, it closed a private placement for $13.5 million, which it says it needs for working capital. This follows two earlier capital infusions last year that netted more than $37 million.
On the plus side, Kintera is generating more revenues this year. Through the end of September, revenue was $31.8 million, nearly double the $15.9 million it took in for the like period of last year.
However, net losses continue to mount. Despite revenue increasing by 73 percent in the third quarter, Kintera posted a net loss of $8.3 million, or nearly double the net loss of $4.5 million for the third quarter of 2004.
For the nine months, Kintera incurred a net loss of $30 million, compared with a net loss of $13.4 million for the same period of 2004.
The company has been aggressively expanding, with the bulk of the new capital going toward buying up smaller companies. During the past two years, it has purchased about a dozen smaller firms, mostly those producing software that fit into its business model.
In August, Kintera said it would reduce its staff by 10 percent, resulting in the loss of about 57 employees.
The company wasn't clear just when it expects to turn the corner in terms of making net profits. Earlier this year, it said that would come by the second half. The most recent estimate is for the fourth quarter of 2006.
All this has caused Kintera's stock to gradually slide during the year. After reaching a high of nearly $10 in January, shares have tumbled and most recently were trading below $3.
In contrast, shares of Provide Commerce gained nearly 12 percent on Dec. 5, the day its sale to Liberty was announced, to close at $33.76, more than double the IPO price of $15.
- - -
On The Pink Sheets: Immune Response Corp., a Carlsbad biotech firm that calls itself "a leading immune-based therapy company in HIV and multiple sclerosis," appears to need some serious financial therapy after its recent banishment from the Nasdaq exchange to trading on the Pink Sheets.
The company, co-founded by Dr. Jonas Salk in 1986, was unable to raise new capital to boost shareholders' equity to above $2.5 million and the share price above $1.
It's little wonder that Immune Response was unable to raise new capital. In a Nov. 14 filing with the Securities and Exchange Commission, the company stated that as of Sept. 30, it had an accumulated deficit of $344.5 million and has yet to generate any sales from commercialized products.
It also disclosed it expects "to continue to incur substantial net losses over the next several years."
Last year, Immune Response accountants provided the opinion that "there is substantial doubt about our ability to continue as a going concern," regarded by some as the death knell for a company's chance to survive.
Still, somebody out there still has faith in Immune Response, which reported it arranged a bridge-equity loan of $1 million from Cornell Capital Partners LP, a sum that will allow the company to continue operating through the second quarter of 2006. By then, the company should raise additional capital to maintain ongoing clinical trials it's conducting, it said.
At its new home on Pink Sheets, shares traded at 15.5 cents on Dec. 5 for a new 52-week low. The high during the past year was $1.74.
- - -
Reaching A High: Mitek Systems, Inc., a Poway-based maker of analytic and fraud detection software primarily for banks, saw its stock gain ground after reporting a fourth-quarter net profit of $458,000, compared with a net loss of $523,000 for the fourth quarter of 2004.
For its full fiscal year that ended Sept.30, Mitek reported a net loss of $1 million on revenues of $6.6 million, compared with a net loss of $3.8 million on revenues of $5.2 million for the 2004 fiscal year.
Chief Executive Officer James DeBello said during the past year, the firm sold off a money-losing product line, resolved all litigation, and recruited several top managers.
For fiscal 2006, Mitek expects to diversify its core client base from the financial services into other industries that need to protect their customers from forgery and counterfeiting. DeBello said sales and operating financials should rise but provided no specific forecast.
Traded on the OTC bulletin board under MITK, shares closed Dec. 5 at $1.38 and have ranged from 33 cents to $1.40 in the past 52 weeks.
- - -
Management Shake-up: Axesstel Inc., a San Diego-based maker of fixed wireless telephones and broadband data products, said David Morash, the president, chief financial officer and director, resigned for personal reasons. Patrick Gray, the company's vice president of finance and controller, will step in to oversee finance. It also appointed two new directors, Roland Van der Meer and Scott Fox, to its board.
In a separate matter, the board accepted the resignation of Harry Casari as a director and the chairman of the audit committee. Casari resigned to focus on other activities, the company said. Fox was appointed the new chairman of the audit committee.
Axesstel also said as a result from a variety of factors, including delays related to new product introduction, revenues from the fourth quarter may fall below the low end of previous guidance of $17 million, and that full year revenues will be below its previous low-end guidance of about $100 million.
For the nine months ended Sept. 30, Axesstel reported a net loss of $5.6 million on revenues of $82.9 million, compared with a net loss of $5 million on revenues of $34.4 million for the same period of 2004.
Traded on the American Stock Exchange, shares closed at a new 52-week low of $1.58 on Dec. 5. It reached a high of $4.90 earlier this year.
- - -
A Bogey For Callaway: Jim Cramer's picks and pans carry a lot of weight with many viewers of his show, but one recent shot leveled against Carlsbad-based Callaway Golf Co. apparently didn't damage the stock.
The host/creator of MSNBC's "Mad Money" dissed Callaway, which trades on New York under the symbol ELY, said on Oct. 20 the company was in "a house of pain," and advised getting out before it falls to below $10.
Except for short decline of 36 cents the next day, ELY has been gaining ground for most of the past few months, and moved from around $13.50 in late October to just below $15 as of Dec. 6.
In other news, Callaway last month authorized a $50 million stock buyback beginning in the first quarter of 2006. The company also declared a dividend of 5 cents per share, payable Dec. 21 to shareholders of record as of Dec. 6.
- - -
Century Mark: The Tech Coast Angels, an angel investment firm based in Southern California with San Diego members, reported funding its 100th company recently. The name of that company has yet to be released.
Among the more successful local firms that have been funded by the Tech Coast Angels are DriveCam, a provider of vehicle video systems intended to improve driver behavior; and Vital Therapies, a biotech producing drugs for patients with severe liver disease.
Since its beginning in 1997, Tech Coast Angels members have invested more than $66 million in 103 companies. These investments have also helped attract $613 million in additional capital, mainly from venture capital firms.
- - -
Ticker Takes: Accredited Home Lenders Holding Co. closed a bond securitization for $1.2 billion in residential mortgages through its real estate investment trust subsidiary Nov. 23. The company, whose shares trade under LEND on Nasdaq, declared a quarterly cash dividend of 60 cents on its Series A preferred shares. Viper Networks said it completed the planned consolidation of all West Coast operations into a single facility in San Diego. SYS Technologies completed the purchase of cVideo. AmNet Mortgage Inc. funded $1.2 billion in home loans in November, compared to $864 million in the same month last year. Woman in Technology International holds its annual conference in San Diego at the Hilton Torrey Pines Hotel on Feb. 13-14.
Send any news of San Diego-based public companies to Mike Allen via e-mail at mallen@sdbj.com. He can be reached at (858) 277-6359.