Firms Warm to Notion of More Canadian Trade
Monday, December 12, 2005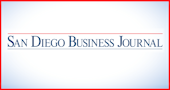 Conversations floated all around him , venture capitalists, chief executives, attorneys, professors, all chatting about technology , and Pete Smyth was all smiles.
Smyth, the president and co-founder of Iamota Corp., a Vancouver, British Columbia-based technology company, was visiting San Diego for the first time Dec. 1 as part of a Canadian trade mission.
His fledgling company is two months away from releasing its first product, a Web-based service that allows cell phone users to back up their personal contacts online.
And, he was surrounded by people who were eager to learn more about his company. Potential users.
Smyth was excited.
He had the local Canadian Consulate to thank.
The five-person office, which reopened in San Diego in August 2004, brought seven technology firms here recently, connecting smaller Canadian companies with tech giants that also have local headquarters, such as Qualcomm Inc. and LG Mobile Phones.
Some Canadian companies were looking for venture capital funding. Others were looking to connect with local defense firms. Smyth was meeting with wireless companies.
He said before the trip he'd only had a virtual relationship with companies such as Qualcomm and Kyocera, communicating by phone and e-mail.
"To get down here and talk to them was huge," he said.
It's the first time the consulate has held a tech trade mission, as the office re-establishes itself here after a 10-year absence. While some Canadian consulates in the United States help citizens with passport, visa and immigration questions, the local office is almost solely focused on trade, said Sunil Sharma, the trade commissioner who opened the office.
Similar offices opened in Phoenix, Houston, Philadelphia and Raleigh, N.C., last year.
The Canadian government called it an "enhanced representative initiative."
Sharma puts it this way: "Canada woke up and felt we don't have as much of a physical presence in these areas , and we should."
Closed By Downsizing
A consulate opened here in the late 1980s, but closed in 1995 when the Canadian government downsized.
Its reopening was a reflection of the vitality of the local biotechnology, IT and defense industries, Sharma said, as well as the growth of political influence in the southwest United States.
When the consulate opened, San Diego didn't have direct air service to Canada, a country of 32 million people. Now there are direct flights to Vancouver and Calgary. Sharma hopes similar service to Toronto will become available next year.
"That has brought Canada much closer to San Diego," Sharma said. "It's one of the best ways to facilitate business relationships."
Those ties have a strong foundation. The United States and Canada have the world's largest trade relationship, fueled by the North American Free Trade Agreement, or NAFTA, which was approved in 1994. Nearly 85 percent of Canadian exports are sent to the United States.
The consulate opened amid some officials' concerns that the Canadian government was trying to lure high-tech business away from San Diego. But Sharma stresses the positives of a two-way relationship.
Benefits For Both Sides
The purpose of any consulate is to help lower informational barriers to trade, said Gordon H. Hanson, a professor of economics at UC San Diego.
"They aren't here for our benefit," Hanson said. "At the same time, if their presence can increase trade between Canada and the U.S., it should work to both parties' benefits."
Unlike some east European companies that come to San Diego strictly looking for financing, the Canadian relationship is more dynamic, said Kevin Carroll, the executive director of the San Diego Council of AeA, a nonprofit trade association that represents the technology industry.
"I think Canada is a little different," Carroll said. "The trade flows work both ways and a lot of high-tech goods are going to Canada. Certainly, having a conduit to go through would seem to be very helpful for the local tech community."