Executive Profile: William T. Ostrem
Monday, December 12, 2005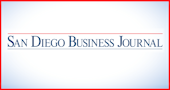 William T. Ostrem is a patient man.
He is the president and chief executive officer of EastLake Co., LLC, developer of one of the largest master-planned communities in San Diego County , EastLake, which covers 3,200 acres in Chula Vista.
Unlike basic homebuilding, where the turnaround is relatively swift, developing a massive community like EastLake can take a couple of decades, said Ostrem.
"EastLake is coming to an end, but we're starting to see the last components really making the community solid," he said. "EastLake's coming up on its 20th anniversary for the first move in, and, before that, there was seven or eight years of planning to get there. A lot of history."
This type of development is as much art as science.
"We're making assumptions on what we've seen and learned," said Ostrem. "There are a lot of factors in our business that will cause you to shift directions, month to month. You need a vision to carry you through, a complete look.
"The most rewarding thing for me is to deliver a neighborhood, and then go back into the community," he said. "I drive around and have lunch, and I get positive feedback. But it often takes a long time to get that kind of feedback. You've got to stay the course."
Ostrem gives Chula Vista high marks for what he considers its forward thinking.
"There are more and more complicated projects, with less land out there, changing zoning, dealing with infrastructure and the surrounding neighborhoods, and designing compatible uses," he said. "There is not even a close second to Chula Vista as far as planning ahead and making sure the infrastructure is done years ahead of time before development. It's part of their mind-set.
"We often look at things from a development standpoint, but a jurisdiction like Chula Vista has to live with what we have developed until the end of time."
RESUME
Name: William T. Ostrem.
Title: President and chief executive officer, EastLake Co.
Education: University of Oklahoma with a degree in business administration.
Residence: Leucadia.
Age: 45.
Family: Wife, Dawn; stepson, David; and stepdaughter, Samantha.
BUSINESS PHILOSOPHY
Essential business philosophy: Do more than what's expected.
Best way to keep a competitive edge: Shop and drive other master plans. I always study what the competitor is doing.
Guiding principles: Everything is easy; people just make things hard.
Yardstick for success: Positive feedback from homeowners.
Goals yet to be achieved: Completion of EastLake. We're almost there.
JUDGMENT CALLS
Best business decision: Going to work for EastLake.
Worst business decision: Not buying a new home in the first phase of each project at EastLake.
Toughest business decision: Changing from development of apartments and office buildings and getting into land development. I was out of college, spent six to seven years developing an expertise in one area, only to switch completely. But it's turned out to be a good decision.
Biggest missed opportunity: Not getting married earlier in life. I have known my wife, Dawn, for 15 to 16 years and I should have married her a long time ago.
Mentor: Bob Santos. He set the personality of EastLake, and how we conduct business with contractors, builders and public agencies.
TRUE CONFESSIONS
What you like best about your job: It's never routine. There's always some new challenge every day.
What you like least about your job: Nothing. I just can't think of anything I don't like about it.
Pet peeves: Dishonesty.
Most important lesson learned: Always do the right thing.
Person most interested in meeting: I would have wanted to meet Einstein.
Most-respected competitor: The Otay Ranch Co.
Greatest passions: Family and architecture.
First choice for a new career: Homebuilder.
PREDILECTIONS
Favorite quote: "Always leave a little on the table" , J.G. Boswell, former chairman of EastLake's parent company. He left a big impression on me.
Most influential book: "Papillon," by Charriere, an autobiography about survival and never giving up against overwhelming odds.
Favorite status symbol: A nice home.
Favorite movie: "The Great Escape."
Favorite restaurant: Pacific Coast Grill and the Brigantine.
Favorite place for business meetings: Milton's.
Favorite vacation spot: Italy.
Favorite way to spend time: Visiting new home-model complexes.
Favorite automobile: Mercedes E55.