Energy Drink Rolls Out to Retailers
Monday, December 12, 2005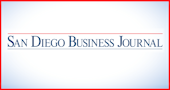 An unusually named San Diego company with an attention-grabbing branding strategy is headed south.
Who's Your Daddy Inc., which touts everything from boxing gloves to apparel and barbecue accessories, announced Dec. 13 that it has reached a $290,000 distribution deal with Circle K.
The national retailer has agreed to stock 13,000 cases of Who's Your Daddy's regular and sugar-free King of Energy drinks in 281 Circle K stores. The stores that will receive the drink shipments are in the southeastern United States and include outlets in Mississippi, Tennessee, Georgia, North Carolina and South Carolina.
The deal also includes Who's Your Daddy working collaboratively with race car association NASCAR to do cross-promotions leading up to the 2006 Daytona 500 in Florida this February.
, Jessica Long