CCDC Chairman Resigns
Monday, December 12, 2005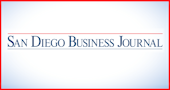 Now without a chairman, the Centre City Development Corp. board of directors will elect officers during its Dec. 14 meeting.
CCDC's previous chairman, Hal Sadler, announced his resignation from the board Dec. 9, effective that day.
Sadler was appointed to the board in May 2001, and had intended to retire after a new mayor was elected, according to the agency, which oversees redevelopment in Downtown San Diego for the city.
"The corporation is in good hands, (has) an excellent board, and a new president, Nancy Graham, to implement a new community plan, hopefully to be approved in 2006," he said in a letter sent to San Diego Mayor Jerry Sanders.
"In the short time that I have been at CCDC, I have come to greatly admire and respect Hal Sadler," said Graham. "He is a real gentleman, and will be missed. He is to be thanked for his great contributions to CCDC and Downtown San Diego."
During his time on the CCDC board, Sadler saw the opening of Petco Park, thousands of new housing units, the Broadway 655 office development, and was instrumental in overseeing the Downtown Community Plan Update process, which he chaired for the past three years, according to CCDC.
He supervised the planning, programming and design of several commercial/industrial facilities, as well as numerous high-rise and midrise office buildings, medical, educational, housing and recreational facilities.
Sadler has served as president of the American Institute of Architects, San Diego chapter; president of the San Diego Convention & Visitors Bureau; chairman of the city of San Diego Parks and Recreation Board; and chairman of the city's Design Review Committee, among others.
, Pat Broderick