A Bank With an Eye for Wealth
Monday, December 12, 2005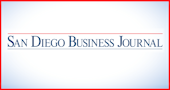 A new bank organizing in San Diego aims to serve not just the wealthy, but also the super-wealthy.
Robert Armstrong, the organization's president and former market president of U.S. Bank's San Diego region, said the bank's target customers would be those with a minimum net worth of at least $3 million and an annual income of about $250,000.
While several larger, nonlocal banks have divisions that target wealthy customers, and some community banks also cater to such individuals, there are many wealthy clients here who may not be receiving the kind of customized service they deserve, Armstrong said.
Some of the larger banks have trust departments or provide similar services, but that would be the new bank's only focus, he said.
"We're going to over-bank holistically," he said. "I can see us helping a client get a child accepted to a particular prep school, helping them fill out an application and making a call to the school."
Each of the bank's 11 employees will be cross-trained to perform any of the necessary tasks, and personalized service will be of paramount importance, he said. "We're going to be just like Nordstrom, in terms of our customer service."
Organizers filed the application with the California Department of Financial Institutions to start the bank only this month, but Armstrong said he's assembled an impressive board of directors.
The designated bank's chairman is Selwyn Isakow, chairman of Oxford Investment Group, a Bloomfield Hills, Mich.-based company that buys and sells small and medium-sized businesses. Isakow is also the chairman of Champion Enterprises Inc., a modular home manufacturing firm with more than $1 billion in annual revenues whose stock is traded on the New York Stock Exchange.
Isakow, 53, has been involved in the formation of three other private banks in the Midwest and is moving to La Jolla where he's building a new, oceanfront home.
"We see a gap in the market for this type of bank that would provide high touch, personal customer service," Isakow said.
He said he's founded similar private banks, the most recent called The Private Bank, based in Michigan that was sold to a Chicago-based bank.
Other directors are Gary Cristofani, a former chief financial officer for the Bank of Commerce (acquired by U.S. Bank); David Ellman, chairman of Gerber Goldschmidt Inc.; John Engle, senior vice president, Scripps Health; Gordon Frost, president, Frost Hardwood Lumber Co.; Joyce Glazer, a local philanthropist; Brad Hall, a certified public accountant; Paul Hering, managing principal/chief executive officer, Barney & Barney; Leon Kassel, president, Jevel Asset Management and former chairman of First National Bank; and Michael Stoff, a real estate developer.
The bank's office is planned at 9404 Genesee Ave., in the University Towne Centre area.
If approved, the new bank would be the 16th commercial bank formed here since 2000. One savings bank also opened here since then.
"I would say another financial institution of this nature starting up in San Diego is testament to the strength of this market," said Susan Ten Eyck Mallory, San Diego regional president of Northern Trust Bank.
Northern Trust, which is based in Chicago, has three main business lines, banking, trust services and investment management, and generally caters to high net-worth individuals and families with more than $2 million in assets, Mallory said.
The impending entry of yet another community bank into the La Jolla area didn't seem to disturb several local bankers asked to comment on the development.
"There's always room for a new community bank in San Diego," said Dan Yates, CEO at Regents Bank, a $200 million asset bank also based in the UTC area and that opened in September 2001.
While some new banks have thrived, others such as Legacy Bank, also based in La Jolla, have struggled to find business. Landmark National Bank acquired Legacy in August.
"The San Diego market is big enough for another player, and if they have an effective business model, I'm sure they'll do just fine," Yates said.
Armstrong, 37, headed up U.S. Bank's San Diego market with some 30 offices for about three years. He has 16 years' experience in various banking jobs and started his banking career as a teller for Bank of America. He has a degree in economics from UCLA.
Assuming the bank's application is approved by the state and the Federal Deposit Insurance Corp., organizers would have 12 months to raise a planned $11 million to $12 million in capital.