Cruise Ships Converge on Downtown
Thursday, December 8, 2005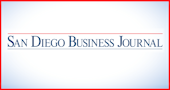 The San Diego Unified Port District is anticipating an unusually high amount of traffic on Harbor Drive on Saturday, Dec. 10, when three large cruise ships enter the harbor.
Holland America Line's Oosterdam, Carnival's Spirit and Celebrity's Infinity will process roughly 13,000 passengers and they embark and disembark, as well as 2,100 crew members at the B Street Cruise Ship Terminal and the Broadway Pier.
The Harbor Drive pier areas are expected to be congested as some 75 motor coaches and 120 trucks haul supplies to the cruise vessels while they're docked awaiting departure later in the day. To ensure coordination and safety of those functions, the port authority is working with the city's Event Traffic Control department to assist with traffic on Harbor Drive. A portion of Harbor Drive between Broadway Pier and the Navy Pier , home to the Midway Museum , will be closed from 2 a.m. on Dec. 10 until 2 a.m. on Dec. 11 to accommodate the service and passenger vehicles.
, Connie Lewis