Sempra Declares Dividend
Tuesday, December 6, 2005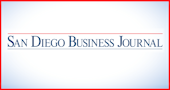 Directors of Sempra Energy declared a quarterly dividend of 29 cents per share of common stock, the company announced Dec. 6.
The dividend is payable Jan. 15 to shareholders of record Dec. 22.
The company also announced preferred dividends from its Pacific Enterprises subsidiary. These ranged from $1.09 to $1.1875 per share.
Sempra trades on the New York Stock Exchange under the symbol SRE.
, Brad Graves