Week in Review
Monday, December 5, 2005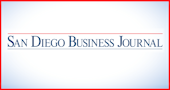 Quote of the Week
'Given the transportation costs and gas prices, I think we should do everything we can to put people in proximity to where they are going to be working.'
, Duane Roth, executive director of Connect, referring to work-force housing. Click here for the story .
Friday, Nov. 25
Shoppers Mob Web: People not only gravitated to the shopping malls on the Friday after Thanksgiving, they also flocked to e-commerce sites.
New York-based market research company Nielsen//NetRatings reported 17.2 million unique customers flocked to 100 representative online retailers Nov. 25 , up from 13.3 million from the same Friday last year.
While many shoppers headed out to stores, the majority first turned to the Internet to check prices and product availability, said a Nielsen//NetRatings retail analyst.
, Brad Graves
Monday, Nov. 28
Tech Firm Headed Here: A private company that makes positron emission tomography scanners announced it will relocate its headquarters to San Diego.
Naviscan PET Systems, Inc. is leaving Rockville, Md., for the Sorrento Valley area. Its scanners are used to image small body parts to guide difficult surgical and radiological procedures.
Chief Executive Officer Paul Grayson said the company is relocating to take advantage of the high-tech work force in San Diego.
Naviscan was founded in 1995.
, Katie Weeks
- - -
Picking Up Hotel's Lease: Bethesda, Md.-based LaSalle Hotel Properties has stated that it is acquiring the 357-room Hilton San Diego Resort for $91.2 million.
Built in 1962, the Mission Bay property is on a 17.7-acre tract of city-owned property.
The 50-year lease on the property was renewed in January 1996 and expires in December 2046. The current minimum rent is $1.5 million annually and is due for an adjustment in January. The sum is based on varying percentages for different categories, including 7 percent of room rentals and 3 percent of food and beverage sales.
Additionally, LaSalle announced that the hotel will be managed by Noble House Hotels & Resorts, which manages another of its properties, the San Diego Paradise Point Resort & Spa in Mission Bay Park.
, Connie Lewis
Tuesday, Nov. 29
Diagnostic Deal: Oceanside-based SeraCare Life Sciences, Inc. announced that it plans to acquire certain assets of Serologicals Corp.
SeraCare will acquire diagnostic manufacturing facilities in Milford, Mass. , near an existing SeraCare facility , as well as the product lines of a Serologicals subsidiary called Celliance.
SeraCare will pay $3.7 million in cash and assume certain liabilities. Information on the liabilities was not immediately available.
SeraCare trades on the Nasdaq as SRLS. Its stock was trading at $21.35 at 11 a.m. Nov. 29.
The deal is expected to close in January.
, Brad Graves
Wednesday, Nov. 30
Bowing Out At CCDC: Gina Champion-Cain, appointed to the Centre City Development Corp. board June 29, is resigning due to a potential conflict of interest.
She is president and chief executive officer of American National Investments, a local real estate services company.
According to Derek Danziger, a CCDC spokesman, her company might become involved with a possible Downtown condo conversion that eventually would go before the board.
"She elected to do this on her own, because of a potential of a conflict," he said.
The CCDC oversees redevelopment in Downtown San Diego for the city.
, Pat Broderick
- - -
Billions From Burgers: San Diego-based fast-food chain Jack in the Box Inc. reported net earnings of $21.5 million, or 59 cents per diluted share, for the final quarter of its fiscal year, which ended Oct. 2. Revenue for the quarter was $601 million, up from $594 million in the year-ago quarter. Net earnings of $21.5 million were slightly higher than the $21 million recorded in the year-ago quarter.
A one-time tax-rate reduction, as well as a $2 million after-tax charge relating to the cancellation of its JBX Grill test, affected yearly earnings per share. The JBX Grill project let Jack in the Box test a fast-casual restaurant concept.
For the year, Jack in the Box reported net earnings of $91.5 million, or $2.48 per diluted share.
Revenue for fiscal 2005 was $2.5 billion, up from $2.3 billion in fiscal 2004.
The company operates more than 2,000 restaurants in 17 states, and trades on the New York Stock Exchange as JBX. Shares stood at $34.28 in late morning trading Dec. 1. It closed the day before at $33.60.
, Brad Graves
Thursday, Dec. 1
Hat In The Ring: Brian Bilbray, a Republican who represented California's 49th congressional district in San Diego's South Bay from 1995 to 2001, announced his candidacy for the 50th District seat vacated by Randy "Duke" Cunningham, who pleaded guilty Nov. 28 to tax evasion and conspiracy.
, Pat Broderick