Turnaround for Aguirre
Monday, December 5, 2005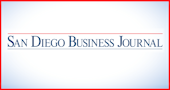 San Diego City Attorney Michael Aguirre , heartened by a Superior Court judge's decision Dec. 2 , said he intends to take "personal control" of a suit he filed this year against eight former city pension board members.
In September, Judge S. Charles Wickersham dismissed charges filed by Aguirre against Lawrence Grissom, Ronald L. Saathoff, John A. Torres, Sharon K. Wilkinson, Terri A. Webster, Cathy Lexin, Bruce Herring and Loraine Lee Chapin. In the suit, Aguirre alleged that city and pension board officials held financial interests in illegal pension benefits created as part of a "quid pro quo" scheme in 1996 and 2002.
On Dec. 2, Wickersham revised his ruling after considering additional arguments raised by Deputy City Attorney Amy Lepine, a member of the City Attorney's Pension Strike Force.
"I will be taking personal control of this case, and trying it myself," said Aguirre following the ruling. "In addition, I have made significant reassignments in the office and will have five deputy city attorneys working with me."
Rebecca Wilson, a spokeswoman for the San Diego City Employees' Retirement System, responded, "We appreciate that Judge Wickersham is doing what he feels is right in order to properly adjudicate this case. Mr. Aguirre will need to make a much better argument this time around in order to convince the court that there is any merit to it."
, Pat Broderick