This Spa Package Travels the Extra Mile
Monday, December 5, 2005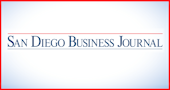 Kidnappers normally are sentenced to hard time in the state prison for their actions, but one small business in San Diego is hoping to garner high praise for its "criminal" mischief.
The Pampered Princess, a La Mesa-based startup launched last month, is offering a surprise pick-up and spa package gift service designed to one-up the more traditional spa gift certificate.
Instead of presenting loved ones with a card that entitles them to a scheduled spa appointment at their convenience, the Pampered Princess customer pays to have a limousine chauffeur surprise the gift recipient at their workplace with a tiara atop a pale pink pillow and instructions to accompany the driver outside. Once outside, the gift recipient is then escorted via limo to a nearby spa, where roughly two to four hours worth of spa treatments are given along with lunch and a gift bag. The recipient is then driven back either to work or home.
"It was a tongue-in-cheek concept at first but as I discussed it with friends and co-workers, I knew it was a viable service," said owner Chris Owens, a single mom who founded the Pampered Princess after working for 15 years in corporate marketing.
Owens, who sells packages via www.pamperedprincesssandiego.com, works with Re-Nous Del Mar day spa and various limousine companies throughout the county.
Packages range from $315 to $400 and include one specifically for pregnant women. Custom group rates are also available.
- - -
Free Tele-Seminar: Small-business owners seeking ways to improve their marketing may want to give 10stepmarketing a call at 6 p.m. on Wednesday, Dec. 14.
The Santee-based training and coaching firm will host a free, one-hour tele-seminar called the "Top 10 Marketing Mistakes Small Business Owners Make and How to Avoid Them." Debbie LaChusa, president of 10stepmarketing, will present the tele-seminar.
LaChusa has worked in the marketing field for 21 years as an adviser, consultant and coach.
"Small-business owners and entrepreneurs make these mistakes and often they're fatal to their business," LaChusa said, referring to the top 10 list she plans to present on Dec. 14. "The really sad part is, many don't even realize why their marketing isn't working."
Small businesses and other independent professionals can register in advance for the event at www.10stepmarketing.com.
- - -
Now Open: The first year for most novice small-business owners is a time to figure things out and work into the marketplace. For Jenny McNulty, a public-school teacher-turned-home d & #233;cor and gift boutique owner, her first year has been a time to think big with the opening of two new locations.
McNulty opened Elizabeth Brooks home d & #233;cor and gift boutique shop in Poway in April, and in the last five weeks opened locations Nos. 2 and 3 of her growing specialty retail business. The new Elizabeth Brooks locations are located within Leaping Lotus in Solana Beach and within the Girard Avenue Collection in La Jolla.
Send small-business news to Jessica Long at jlong@sdbj.com. She can also be reached at (858) 277-6359.