Succession Plan in Place at Landmark National
Monday, December 5, 2005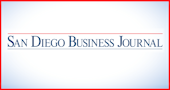 While the retirement of Ron Carlson at Solana Beach-based Landmark National Bank may have appeared sudden to some, it was something that had been planned for a while, said recently appointed Chief Executive Officer Rick Mandlebaum.
"It was a succession plan that was set up for me that involved my being made a director, then president, and now CEO of the bank," Mandlebaum said. "It was a staged, orchestrated, plan of succession."
Mandlebaum, 58, started his banking career on the mortgage lending side, first with his own company in 1978, and a few years later, heading up the mortgage lending division for Escondido National Bank. That bank and two others, San Marcos National and Temecula Valley National, were merged into First Pacific National Bank with Mandlebaum staying on until 1998 when he took a job with Scripps Bank as a senior vice president.
After U.S. Bancorp acquired Scripps in 2000, he was named regional manager, heading the commercial banking division. Mandlebaum left in July 2002 to help start up Landmark National, which opened its doors a month later.
Mandlebaum said Landmark's acquisition of Legacy Bank, which closed in July, is going fairly well, with Landmark doing whatever it takes to retain Legacy's customers.
"We told all our Legacy customers they will have two loan officers they can deal with," he said. "We want to make sure that we keep those customers."
The bank is also beefing up its staff to generate new business. Recently it hired Karen Vold, a former banker with First National Bank, to bring in new business customers, Mandlebaum said.
While it took a little longer to break into the black, Landmark National, with about $126 million in total assets, posted net profits for each of the past three quarters that totaled $82,000 for the nine months ended Sept. 30, compared to a net loss of $1.4 million for the same period of 2004.
Thanks mainly to the Legacy acquisition, its loan portfolio more than doubled to $92.3 million, while deposits grew 83 percent to $101.3 million.
So far, the bank's loans are all performing well with no problems. However, the bank has still been unable to find a new tenant for Legacy's office at 1020 Prospect Ave.
Part of the reason is the parking arrangement that requires visitors to drive into a garage three floors down. The lease on the building also requires a new tenant to be either a bank or other financial business, Mandlebaum said.
- - -
The $3 Billion Mark: ITLA Capital Corp., the holding company to San Diego-based Imperial Capital Bank, reported third-quarter earnings of $6.2 million, compared to $5.5 million in the previous year's third quarter. For the nine months, the firm reported net income of $17.7 million, down from the same period of last year, when it had $24.9 million in profits.
ITLA said the decrease was mainly caused by a decline in interest and fee income earned from a discontinued tax refund loan program.
The company reported loan production for the past quarter was $382 million, compared to $231.5 million for the same quarter in 2004. For the nine months, loans grew by $1.3 billion, compared to $644.7 million in the like period of 2004.
Most of the new loans are coming through ITLA's national network of 27 loan production offices, set up over the past two years. CFO Tim Doyle said the loans generally fall into two categories, for smaller apartment complexes of 10 units or less, and commercial loans ranging from $2.5 million to $5 million for offices, retail centers and larger apartment complexes.
As of Sept. 30, ITLA's loan portfolio stood at $2.5 billion, up from $1.8 billion in the previous year's third quarter.
ITLA's total assets surpassed the $3 billion mark recently, but stood just below that, at $2.99 billion as of Sept. 30, compared to $2.3 billion for the same date in 2004.
The figure puts ITLA second largest among financial institutions headquartered in San Diego, behind California Bank & Trust, with more than $9 billion, and tied with San Diego County Credit Union, also at $3 billion in assets.
All of ITLA's growth isn't without some bumps. Nonperforming loans stood at $22.4 million or 0.75 percent of total assets, up from $1.7 million or 0.63 percent of total assets as of Sept. 30, 2004.
ITLA said a single borrower caused the rise in problem loans. Despite the increase, the ratio is below the 1.05 percent average the bank had for the past five years, the company said.
- - -
Sanders Retains Position: San Diego Mayor-elect Jerry Sanders won't have to give up his director's seat on the new Coronado First Bank board of directors.
Upon his winning the Nov. 8 election, Sanders checked with City Attorney Michael Aguirre, who told him retaining the post would be fine, said Coronado First Chairman Tom Stickel.
Sanders, a friend and former college roommate of Stickel's, is also a small investor in the one-office bank that opened in October.
Sanders is not the only elected official who is also a bank director. County Supervisor Greg Cox is a member of the board of Seacoast Community Bank in Chula Vista.
- - -
More SBA Crowing: The completion of the fiscal year for the federal government's Small Business Administration is always certain to generate publicity from commercial banks making SBA-guaranteed loans.
Temecula Valley Bank noted its $222 million SBA total garnered it 15th place among the nation's largest lenders in the 7(a) program. Temecula Valley also said it was the largest in the nation when the ranking consists of independent banks.
Community Bancorp, which is based in Escondido, noted it approved 71 loans in the SBA's 504 loan program used for buying property for a total of $84.4 million. That number ranked it as the biggest SBA 504 lender among community banks for the second straight year. It was the ninth largest overall lender in the program among some 1,800 lenders nationally.
- - -
They're No. 1: Minneapolis-based U.S. Bancorp, which has 30 branches in San Diego, was ranked the top-performing large bank in the nation by Bank Directors Magazine based on the bank's financial results from the second half of 2004 and first half of 2005.
The magazine used six categories to measure performance including return on average assets, return on average equity, tier 1 capital ratio, leverage ratio, nonperforming asset ratio and reserve coverage.
For the time period, U.S. Bancorp had the best ROA among the 23 large banks analyzed with 2.22 percent, and the best ROE at 22.61 percent.
- - -
Small Change: Wells Fargo HSBC Trade Bank increased its line of credit to InfoSonics Corp., a San Diego-based cell phone distributor, to $25 million. The California Credit Union League presented the Political Professional of the Year award to North Island Financial Credit Union's general counsel Rick Haynie. Community Bancorp declared a quarterly cash dividend of 10 cents per share at its recent meeting. Solana Beach-based Hokanson Capital Management was named one of the nation's top 100 wealth advisers by the Robb Report in the October issue of Worth magazine.
Send any news about banks and other finance businesses to Mike Allen via mallen@sdbj.com. He can be reached at (858) 277-6359.