Small Business Spotlight: Aussie Pet Mobile North County
Monday, December 5, 2005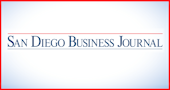 The scariest and most rewarding business decisions are often one in the same; just ask Chuck Black.
The Oceanside resident, who quit a successful 30-year career in corporate retail management to pursue small-business ownership, said he couldn't be more pleased with his decision to trade clothing and home goods sales for the mobile pet grooming market.
Before becoming an Aussie Pet Mobile franchisee in North County in 2002, Black worked in retail management for J.C. Penney Co., Inc., running a store in Iowa.
Although Black, a native of Canada, started his career with J.C. Penney in Oregon, the retail giant reassigned Black to stores farther away from the West Coast during his 30-year tenure with the company.
"They just kept moving us in more and more," Black said. "Finally, I think my wife and I just decided that the Midwest wasn't for us and we decided San Diego was where we wanted to be."
After Black quit his job and chose San Diego for his new home base, he said he chose to become an Aussie Pet Mobile franchisee because it allowed him and his wife to work together on the business. The family's love of pets also attracted Black to the business.
"That is a big plus," he said. "It's great working together as a couple."
VITALS
Name: Chuck Black.
Title: Owner.
Company: Aussie Pet Mobile North County.
Company address: 3928 Tortuga Cove, Oceanside 92054.
Company phone: (760) 390-3394.
Year founded: 2002.
Prior business experience: 30 years with J.C. Penney Co., Inc., was a store manager upon departure.
Average hours worked weekly: 60 to 70.
Source of startup capital: Wells Fargo SBA loan.
2004 revenue: Up 34 percent from 2003.
Estimated 2005 revenue: Up 85 percent from 2004.
Number of employees: 8.
Web site: www.aussiepetmobile.com.
BACKGROUND
Birthplace: Vancouver, British Columbia.
Education: Two years of college at the University of Oregon.
Age: 52.
Current Residence: Oceanside.
Family: Married 32 years with two children, ages 23 and 28.
Hobbies: Travel.
JUDGMENT CALLS
Reason for getting into business: I wanted to step out of the corporate world and become my own boss. Live the "American dream."
How I plan to grow the business: We will continue to add employees and trailers to fill the demand of our service.
Biggest plus of business ownership: Lifestyle of working from home with my wife.
Biggest drawback: Living the job 24/7.
Biggest business strength: Planning and organizing.
Biggest business weakness: Trying to do too much myself and getting bogged in minutiae instead of working on "big picture" ideas.
Biggest risk: Quitting career after 30 years and relocating 2,000 miles to start a new business.
Smartest business decision: Quitting career after 30 years and relocating 2,000 miles to start a new business.
Biggest business mistake: Not buying additional territory when it became available.
Toughest career decision: To start own my business.
Biggest ongoing challenge: Proper time management.
The most important part of my business: Finding and retaining customers.
My business works best when: I have enough professional and trained employees to fulfill out customer expectations.
Best way to stay competitive: Quality of service, professional employees and clean units.
How I measure success: Sales compared to previous years and number of repeat customers.
GOALS
Goals yet to be achieved: Continue to be recognized as one of the top three franchises in the national system.
My five-year business plan: To have 10 trailers doing $1 million in yearly revenue.
I would sell my business only if: Enough money was offered.
Guiding principles I will continue to follow: To continue to offer quality service to our customers so we are recognized as the groomer of choice for pet owners.