Sanders Sworn in as San Diego Mayor
Monday, December 5, 2005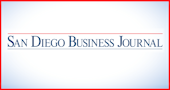 Jerry Sanders was sworn in as San Diego mayor at the Dec. 5 City Council meeting.
"My goal will be to re-create government, both in form and function, so that it matches this distinction," said Sanders at his swearing-in ceremony. "But it won't be easy and it will take some time. Our city government is broken, there's no other way to put it. The problems that plague San Diego weren't created overnight and they can't be fixed overnight either."
Sanders said that he would keep his campaign promises to streamline city operations, making government more accountable, "making ethics and customer service the foundation of a new City Hall culture."
He succeeds Dick Murphy, who stepped down from office July 15, amid federal investigations into city finances, a pension deficit, budget battles and scathing national press. City Councilwoman Toni Atkins had been serving as deputy mayor in the interim.
Sanders defeated City Councilwoman Donna Frye for mayor in the Nov. 8 election.
Sanders becomes mayor at a pivotal time in San Diego's history. On Jan. 1, the city will begin a five-year test of a strong mayor form of government, in which the mayor will function as the chief executive officer of the city. This replaces the city manager form, which, most recently, had Lamont Ewell in the job. He left his post Nov. 28 to accept a similar position in Santa Monica.
City Councilman Scott Peters has been tapped to serve as City Council president, and will be taking over the duties once assigned to the mayor, presiding over the City Council meetings and making committee appointments.
, Pat Broderick