San Diego People
Monday, December 5, 2005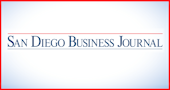 Executive Profile: Ron Lack
Ron Lack has joined Equastone as executive vice president. He will be responsible for all asset management functions in California, Arizona and Nevada, including overseeing all leasing, construction, property management and dispositions. Lack has 17 years of asset management experience and most recently he served as vice president of asset management for WCB Properties. "Ron is well known and highly respected amongst leasing brokers, investment brokers and key industry executives; he will be instrumental in achieving our acquisition, leasing and disposition objectives," said Roger Simsiman, chief operating officer.
Banking and Finance
Jim Parker has been named member accountant and adviser customer council for Intuit Inc. He will share insight, experience and expertise with Intuit as the company develops new products and services for accountants and advisers.
Construction and Design
Dominy + Associate Architects has added Lisa Castagnola as architect and Shao Hsiin Lin as intern designer and drafter. Castagnola has 11 years of industry experience and Hsiin Lin was previously with R & L; Architects in Taiwan.
Government and Nonprofit
Robin Pelletier has joined Words Alive as executive director. She will oversee the staff and lay leadership as well as work with the board of directors. Pelletier has more than 15 years' experience in communications and development and most recently was executive director of Laura's House. San Diego Superior Court judges have selected attorneys Peter Doft, Virginia Johnson and Edlene McKenzie to serve as court commissioners. Doft began his career in 1979; in 1985 he focused on civil work, specializing in estate planning matters as well as business transactions and litigation. Johnson was admitted to the California State Bar in 1990 and began her career in family law matters. In 1998, Johnson began her position as a staff attorney for the San Diego Superior Court. McKenzie was admitted to the bar in 1986 and focused in juvenile dependency and family law. McKenzie has served as a judge pro tem for the Juvenile Court for the Superior Court of San Diego County. Since 1995, McKenzie served as on the minor's counsel panel for San Diego Family Court.
Health Care and Biotech
Cell Bio-Systems, Inc. has added Ratan Bajaj as vice president of global operations. He will be responsible for handling overseas and U.S. manufacturing operations, vendor negotiations, tooling designs, manufacturing, engineering and automation. Bajaj has more than 25 years' experience in the medical devices industry.
High-Tech and Manufacturing
PowerMetal Technologies has appointed William Davidson III as vice president of product development. He will be responsible for development and production contracts, as well as managing key internal research and development objectives, budgets and schedules. Most recently, Davidson was with Liquidmetal Technologies.
Hotels and Restaurants
Nikki Nuzzolillo has been named director of training for Pat & Oscar's restaurants. She will be responsible for coordinating activities for the training department as well as designing, planning and implementing education and development initiatives, training programs and policies companywide. Most recently, Nuzzolillo served as the director of training for Raising Cane's Restaurants.
Law
Boris Zelkind has joined Knobbe Martens Olson & Bear as of counsel. Zelkind has more than 10 years' experience litigating, prosecuting and licensing intellectual property issues. Jerrilyn Malana, an attorney at Littler Mendelson, has been elected to the San Diego County Bar Association's board of directors. She will be responsible for setting the bar's agenda and strategic goals for the coming term.
Media and Marketing
Nathan Mueller has joined JWalcher Communications as an account coordinator. In this position, he will be responsible for client development in various sectors. Most recently, Mueller was an intern at Lewis Global Public Relations.
Miscellaneous
Jason Berman has joined XPEDX as senior account manager for the industrial packaging division. He will be responsible for consulting with customers in the manufacturing segment. Berman has 20 years of outside sales experience. Imageworks recently named Robin Dayley as an associate producer. Dayley was previously at Vintage Video. The 2005 National League West Division Champion San Diego Padres have promoted Katie Pothier to executive vice president, general counsel; Jim Ballweg to vice president, corporate sales; Mark Tilson to vice president, sales and services; and Marty Gorsich to director, corporate sales. The San Diego Convention Center Corp. announced the appointment of Rudolph Johnson III as the general manager. He will be responsible for all the day-to-day operations of the facility, in addition, he will be actively involved in the sales and marketing effort. Most recently, Johnson served as the Convention Center's director.
Real Estate
Gary Zolnierek has joined VR Business Brokers as senior associate. He previously developed and managed his own aerospace manufacturing business.
Awards and Recognition
The Alzheimer's Association honored Paul Greenwood with the 2005 Visionary Change Award for his leadership in preventing and prosecuting elder abuse. The 2005 Luxury Conclave honored Bonnie Adams with the Highest Priced Property Sold Award for her La Jolla sale of $23.5 million. The California Escrow Association has recognized the North San Diego County Escrow Association as the Region with the Highest Percentage of Increase in Professional Designation Members. Cabrillo Credit Union and their partners, Sharp Credit Union and Carlsbad Credit Union, honored four credit union members for their service and dedication to the credit union: U.S. Border Patrol agent Frank Miranda and Tina Bravo-Paisley, as well as Betty Kerns and Patty Gaillard.
Philanthropy
One hundred twenty-five of San Diego's commercial real estate professionals helped raise $125,000 at the 2005 San Diego Real Estate Challenge for the Monarch School for homeless and at-risk children.
Sharp Credit Union helped raise $2,500 to benefit ThinkFirst San Diego.
, Compiled by Stacey Bengtson