Rep's Conviction Shines Light on Defense Practices
Monday, December 5, 2005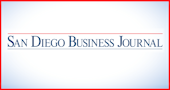 The collapse of Randy "Duke" Cunningham's political career started with the pocketing of a defense contractor's personal check , No. 1039.
The $70,000 payment to the Republican congressman on May 1, 2000, was just the beginning.
The bribes to Cunningham, who served eight terms as the 50th District's representative, started small, just $100,000 in the first year. But during the next five years, they bought a yacht and a Rolls-Royce for his use, paid for his daughter's graduation party and helped him reap inflated profits off the sale of his Del Mar Heights home.
By the time he was caught five years later, he had received more than $2.4 million in exchange for funneling business to two defense contractors.
And so U.S. marshals escorted the 63-year-old former Navy fighter pilot ace into warm autumn sunlight Nov. 28 to address a throng of snapping cameras and scribbling reporters, where he announced his resignation from Congress.
Hours earlier, he'd pleaded guilty to bribery and tax evasion. His bifocals were dusty; his hands trembled as he spoke.
"The truth is, I broke the law, concealed my conduct and disgraced my high office," he said, his voice choking with emotion. " In my life, I have had great joy and great sorrow. And now I know great shame."
As he walked away without taking questions, returning to the federal courthouse to be fingerprinted, several reporters shouted at him.
"Why did you do it, congressman?" they yelled. "Why did you do it?"
Analysts say one explanation is simple: There was no one to stop him. Cunningham's case came to light only after an investigation by the San Diego Union-Tribune and Copley News Service. Another major defense contracting scandal was exposed only after e-mails were uncovered by U.S. Sen. John McCain's office.
That is evidence, critics say, that no one has closely watched Cunningham or his colleagues to ensure they don't personally profit off the government's lucrative defense contracting business , a process that can be conducted in secret.
Critics say there's no transparency to negotiations of the Pentagon's "black budget," the portion of defense spending that's top secret.
"There is a lot of horse trading behind the scenes that outsiders simply aren't privy to," said Loren Thompson, a defense analyst at the Lexington Institute, an Arlington, Va.-based think tank.
That's especially true for members of Congress such as Cunningham, who have sat on the House Appropriations' Defense Subcommittee, Thompson said.
Members of Congress in that position have "huge, huge authority" to make or break individual defense contractors, while the public has to depend on politicians' internal ethics to prevent abuse, he said.
"Anytime a person is living on a yacht and driving a Rolls-Royce, you kind of have to assume it will be noticed," Thompson said. "But the fact that it took this long tells you how much oversight of Congress there is."
The Pentagon spent nearly $500 billion last year. An estimated $200 billion went to the hundreds of contractors that provide everything from clean laundry on military bases to the development of next-generation weapons to the reconstruction of the Iraqi army.
But as the contracting business has grown in the last five years, the Defense Department has shrunk its agency that reviews the contracts. Since 1993, the Defense Contract Audit Agency has lost more than 1,500 staffers.
"That makes absolutely no sense," said Beth Daley, a spokeswoman for the Project on Government Oversight, a nonprofit Washington, D.C.-based watchdog agency. "It's just yet another symptom of how the defense contractors are having a free-for-all with the government right now. There has not been enough attention paid to this issue."
Michael W. Wynne, a Defense Department official who testified before the Senate in April, admitted an effective ethics program depended primarily on personal ethics and self-enforcement.
Federal regulations require contractors to have written ethics policies and employee training.
But written policies aren't always followed, according to one company's independent internal ethics review, cited in a congressional report released this year.
The Government Accountability Office, Congress' independent watchdog arm, found the Defense Department had 53 cases of potential misconduct in the last five years.
But the GAO said Pentagon officials weren't tracking the cases and couldn't say whether misconduct was on the rise. The Pentagon was missing opportunities to protect the public trust, the GAO concluded.
Major defense contractors say they emphasize ethics to all employees. A few bad apples , people looking to cut corners and profit personally , shouldn't tarnish the reputation of the entire industry, they say.
"The state of ethics in the business , in the main , is very, very strong," said Peter F. Hedley, chief operating officer of Galaxie Management Inc., a San Diego-based defense-consulting firm. "There are fringe entities, and when you play with fire you get burned."
For the first time, an ethics discussion was included in Fleet Week activities. The Northrop Grumman Business Ethics Symposium focused on finding the balance between ethical decisions and profitable decisions, said Tom Caughlan, executive director of the Fleet Week Foundation.
"That's easy to say," Caughlan said, "and sometimes tough to do."
Cunningham is not the first person to be caught up in a government procurement scandal.
Darleen A. Druyun, a career Air Force acquisitions official, was jailed earlier this year for inflating billion-dollar contracts with Boeing , then taking a job with the company.
Sen. McCain called the Druyun case "the most egregious abuse of power from an acquisition official that I have ever seen."
Boeing's chief executive officer resigned, as did several senior Air Force officials.
David H. Safavian, a former White House procurement policy chief, is also facing criminal charges alleging he lied to investigators digging into the history of Jack Abramoff, a Republican lobbyist.
In a business where former military and government officials regularly cycle into the private sector, problems are systematic, said Dan Guttman, a fellow at Johns Hopkins University.
While some say the competitive bidding process keeps the system honest, Guttman points to a study by the Center for Public Integrity, a Washington, D.C.-based investigative research organization, which found just 40 percent of defense contracts were awarded through a "full and open" process between 1998 and 2003.
"We have a system where you can't presume there is no corruption anymore," Guttman said. "It's beyond comprehension. People do not know anymore what is right."