Merger Mania
Monday, December 5, 2005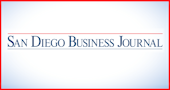 For seven years, Berkley Web Strategies owner and founder Holly Berkley built her Downtown San Diego business from scratch, offering online marketing and design consulting services throughout the county's business community.
But as her business grew, so did the needs of her clients, and Berkley found herself outsourcing many projects and missing out on potential profits.
Enter Premier Internet Services, a La Mesa-based company frequently used by Berkley for technology support.
Berkley and Doug Lewis, who founded Premier Internet Services in 1996, merged their companies on Nov. 1, sharing their resources and expenses 50/50 and creating Vantage Internet Services, Inc.
It's been an active year for mergers and acquisitions, like the one between Berkley's and Lewis' firms, with about a trillion dollars exchanging hands in the United States in the 12-month period ending Oct. 31, according to FactSet Mergerstat LLC, a research company based in Santa Monica.
"I always saw a need to offer my clients a more complete e-commerce service," Berkley said. "This merger buys into the strength of both of our businesses we hope to develop double or even triple (the revenues) we do on our own next year."
Berkley is serving as chief executive officer and director of Internet marketing for the new company, while Lewis is serving as chief operating officer and director of Internet technology. They employ five full-time employees between their two offices in Downtown San Diego and La Mesa, and hope to increase that number soon.
While Berkley and Lewis didn't put a price tag on the merger, the value of mergers and acquisitions nationwide was higher this past year, according to Mergerstat. Although there were roughly the same number of merger and acquisition deals in 2004 as there were in 2005 , about 10,000 , the combined value of all deals was significantly more, Mergerstat said. The value of merger and acquisition deals nationwide in 2004 was about $700 billion compared with 2005's $1 trillion total.
"In general, the M & A; activity level is good," said Joel Reed, principal with Relational Advisors LLC, an investment bank in Sorrento Valley. "I think the bottom line is it's been a strong M & A; market."
According to Mergerstat, the most active industry among private sellers for the three-month period ending Oct. 31 was by far computer software, supplies and services with 294 deals, compared with the second most active industry, miscellaneous services, which reported 147 deals in the same time period. The wholesale and distribution industry was third on the list with 75 deals.
The computer software, supplies and services industry also topped the list of the most deals among all seller types involving deals between $1 million and $500 million, plus undisclosed deals. On that list, the computer software, supplies and services industry had 443 deals in the three-month period ending Oct. 31. The miscellaneous services industry also maintained its second-place position with 241 deals in that category.
California leads the way as the most active state for merger and acquisition deals with 299 in the three-month period ending Oct. 31, followed by 155 in Texas and 142 in New York.
Steve Rowles, a partner at Morrison & Foerster LLP in San Diego, said that the local activity is so strong it's taking up much of his office's time.
"We're very busy at this point for M & A;," he said. "I'd say three-quarters of what we're dealing with is mergers and acquisitions right now."
Rowles said that he believes a "relatively weak" initial public offering market is part of the reason corporate exit strategies are favoring mergers and acquisitions this year.
He also said that strong years in health care and defense industries, as well as increased interest in doing cross border transactions in China are likely boosting merger and acquisition activity this year.
But Reed of Relational Advisors isn't convinced that the defense industry's recent strong yields due to the war in Iraq can take too much credit for the current merger and acquisition landscape.
"That could be some of it but I doubt that that's enough to move the needle on that industry," Reed said, noting that plenty of technology companies dealing in the consumer market have been extremely active this year in the San Francisco Bay Area and surrounding Central California towns.
While some company executives seek out a merger or acquisition deal as a way to save money or make more of it, others simply consider it an end goal. One such executive is Douglas Burke, the chief executive officer of DefenseWeb Technologies, Inc., a software company based in Pacific Beach that customizes Internet-based services and programs for the U.S. Department of Defense.
Founded in 1998 with $20,000 in credit card debt and a spare back bedroom, it has grown to about 60 employees with annual revenues in the millions of dollars.
Burke said since 2003, the company's revenues have grown more than 100 percent annually and he hopes to make greater than $30 million in annual sales in the next year and a half. Once that marker is met, Burke said he'd like to see DefenseWeb acquired by one of the larger high-tech defense contractors, such as Sorrento Valley-based Science Applications International Corp., which has more than 43,000 employees spread throughout more than 150 cities worldwide and annual revenues of $7.2 billion.
"I think in each specific case and for each different type of company there's a different map of the road," Burke said, noting that from a small tech company perspective, there are two "sweet spots" to strive for.
Burke said that somewhere north of $20 million in annual revenues puts a company on the radar for acquisition and progression to $75 million to $100 million makes a company highly attractive and in a good position to deal.
"If I'm SAIC, why would I spend the same money for a company worth only say $5 million when I could go for one worth so much more; it'd be silly really," Burke said. "Our plan is to get north of that $20 million and then see what kind of attention we can get."
Although some smaller companies, such as Berkley Web Strategies and Premier Internet Services, can merge with minimal shared expenses, larger companies merging with others rarely have as equal a partnership, according to Reed.
"You occasionally have a merger of equals to start but usually after a few years it becomes pretty apparent who's taking the leading role," he said.
The strain can often be a lead company's downfall, said Gary Sutton, a retired chief executive officer who has headed companies that were acquired five times during his career.
"Most of them don't work," he said.
Sutton, who recently wrote "Corporate Canaries Avoid Business Disasters With a Coal Miner's Secrets," said that the reason more merger and acquisition deals fail is because companies pay too much and the only reason any company should merge with or acquire another is if that company is smaller and growing as an up and coming competitor.
"They overpay at least double what they should pay most of the time," Sutton said. "Me and my shareholders loved it."
Whether the merger and acquisition landscape in 2006 will be as active as it was this year is a mystery for many industry insiders.
"No one knows where the economy will go," Reed said. "We may see some change as people slow to watch where the market is going, but that's to be expected."
Rowles from Morrison & Foerster also said that peaks in the merger and acquisition market constantly come in waves and while the market is trending up right now and shows no signs of slowing, it will probably come down eventually.