Diegan, Hard Rock Roll With Investors
Monday, December 5, 2005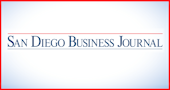 About a year ago, the word "condotel" entered the local real estate lexicon as news surfaced that the concept was soon to debut here.
While common elsewhere, particularly in Florida, developers interested in building condotels , hotels built largely with someone else's money by selling some or all of the guest rooms to individual investors , to San Diego were said to be scouting sites near the Gaslamp Quarter. But specifics were hard to nail down.
Now fast-forward to the present. Construction has started on the 393-room, 12-story Hard Rock Hotel San Diego on Fifth Avenue near Petco Park as well as the 185-unit, 21-story Diegan Hotel on Fifth Avenue between Broadway and C Street; both will be 100 percent condotels. All guest rooms and suites will be sold to individual investors.
Marketers for both properties are taking names of interested buyers. From the sound of it, getting a piece of the Hard Rock will require a fat wallet.
Greg Casserly, the president of Orange County-based Tarsadia Hotels, the manager for the Hard Rock San Diego, said per-unit sales prices are expected to range from $400,000 for single rooms to more than $1 million for some suites.
"This is a rock star suite," Casserly said. "It's luxury. So they're buying a lifestyle and if they put into the rental pool, they'll get part of their money back."
Room and suite sizes will range from 360 to 1,400 square feet. Terms of revenue sharing and fees have yet to be announced, said Tarsadia's vice president of sales and marketing, Pat Patel.
The deal for the luxury hotel was underwritten and financed by Fifth Rock LLC, which will own the common areas of the hotel, such as meeting rooms, restaurants and bars. Casserly said he could not reveal the names of the partners in Fifth Rock LLC, because of a non-disclosure agreement. The hotel has a licensing agreement to carry the Hard Rock flag.
Target Market
The Hard Rock's condotel buyers are expected to range in age between 25 and 55, with most between 29 and 39. Some may choose to use their condotel units as vacation getaways, while others may put them into the hotel's inventory on a continual basis, Casserly said.
Buyers are encouraged to retain ownership of their condos for at least two years, he added. The notion of flipping to get a fast return on investment is discouraged.
Casserly said that Fifth Rock's motive for going the condotel route was to "free up equity and retire debt." He declined to offer specifics on construction costs.
"I'm comfortable saying it's in excess of $130 million," he said. Construction on the project is expected to be completed in the fall or winter of 2007.
Like the Hard Rock Hotel, the Diegan is courting well heeled vacation-home buyers interested in the amenities that a hip, first-class hotel has to offer and the possibility of offsetting some of the cost with a revenue return.
Lee Mullinax, the president of San Diego-based Vertical Properties, which is the broker for the Diegan, said the firm is targeting individuals or parties who plan to hold on to their investment for at least five years. While there are no set restrictions, an ideal buyer would have a net worth of $5 million, an annual income of $200,000 or more and would be willing to pay about 30 percent of the purchase price of the unit in cash.
"This is not a security offer," he said. "It's strictly a real estate deal. The buyer has to go out and do his or her own due diligence. We can't talk about investment and return.
"This is not for someone who wants to flip in two years and make $100,000. But if people hold on to real estate for a period of time, historically it has done well."
No Blues Here
The project, developed by 5th Avenue Partners LLC of Orange County, will be adjacent to the House of Blues San Diego restaurant and concert hall, which opened in the spring on Fifth Avenue. The firm also developed that venue.
Sales prices will start in the range of nearly $400,000 and go up to $4 million for the penthouse suites, with the average being about $550,000.
Jim Trammel, who serves as president and managing partner for the Diegan venture, said the hotel rooms and suites would range in size from 350 square feet to one as large as 2,700 square feet. Terms are not finalized as yet, but typically condotel agreements stipulate that 10 percent of nightly room rental revenue goes to the hotel operator for management fees and the remaining 90 percent would be split evenly between the condo owner and the hotel.
"That's typical," Trammel said. "I'm not saying that's our deal because it's not been presented and finalized. We want to be open in the spring of '07 and expect to be sold out in the next few months."
Top Of The Line
He said the Diegan will aim for AAA Five Star status and the expectation is that room rental rates will start at about $300 or more nightly.
Trammel said the construction tab for the Diegan is about $75 million.
Jim Butler, the chairman of the Global Hospitality Group of the Los Angeles-based law firm of Jeffer, Mangels, Butler & Marmaro, said condotels are in demand by "aging boomers" looking for an alternative to stock market investments and a second or third vacation home.
"People want a hip, happening place to go," he said, adding that projects such as the Hard Rock San Diego and the Diegan answer that market niche.
"I think in a generic sense what the condo hotel phenomena has done is enabled the development of quality, luxury properties that I think are a real boon and benefit to their communities," Butler said. "Financing for new construction has been very difficult since 1998. It's gotten better but it's still difficult. But lenders are willing to look at condo hotels because they see a quicker pay down.
"Also, construction costs have skyrocketed in the last two years. We've seen an increase of 30 percent in each of the last two years. So with the ability to sell off condo units, builders are now able to build what they otherwise might not have been able to afford.
"The Hard Rock and the Diegan are the kinds of projects that create excitement. They create draw. They're demand generators for communities like San Diego that thrive on the tourist trade. I think the trend of condotels is growing and will continue to grow for a while."
Butler said his firm is working to help structure deals across the country, including several in San Diego. But he wouldn't give any names of the firms he's involved with locally or specifics on the proposed projects.
According to Bob Rauch, the director of San Diego State University's Center for Hospitality and Tourism Research and co-owner of Homewood Suites by Hilton San Diego/Del Mar, condotels represent the best of both worlds for a developer.
"The developer gets significant equity from the buyers of the condotel units," Rauch said. "That way they can much more easily finance a project."
Butler said there are 90,000 condotel units nationwide in various stages of planning or construction.
He projected that California will be one of the most active in terms of increased condotel development.
Data from Smith Travel Research of Tennessee show Florida and Nevada each has 21,000 condotel units in the pipeline, while California and Illinois are tied at 7,500 each.
Condotels blossoming along California's coastline include Terranea, being developed by Los Angeles-based Lowe Enterprises on the Palos Verdes Pennisula in Orange County. Projects under way in Las Vegas include the first of three 578-room towers for the Residences at MGM Grand, which is slated for completion in mid-2006. Real estate magnate Donald Trump reportedly also has plans to build a condotel there. A couple of well-known Miami condotels include the Tides and the Le Meridien Sunny Isles Beach.