Construction Journal
Monday, December 5, 2005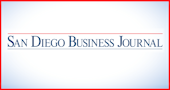 Red Diamond Coatings and Bay Cal Commercial Painting are donating time and materials to refurbish the fabled Hollywood sign overlooking Los Angeles. Red Diamond Coatings, a manufacturing of architectural coatings, and Bay Cal Commercial, are teaming up to restore that 45-foot-high, 36-foot-wide letters that make up the sign. First erected in 1923, and in 1973 declared a Los Angeles cultural historical monument, the sign was last painted in 1995. The Hollywood Sign Trust was formed in 1978 to maintain the landmark and to raise the funds needed for the projects.
- - -
RSI Roofing has signed a contract to re-roof a commercial building located at 955 Borra Place in Escondido.
Cost: $84,754.
RSI president: David Susi.
- - -
Sully-Jones Roofing Co. has completed re-roofing of four commercial buildings within the Bertram Business Center in San Marcos.
Cost: $200,000.
The company also completed re-roofing of the commercial building housing Tower Glass in Santee.
Cost: $39,000.
Commercial project manager: Ben Scales.
- - -
Roel Construction has completed tenant improvements for Wells Fargo Plaza in San Diego.
Cost: $5 million.
Building owner/property manager: The Irvine Co.
Construction manager: Palmer Construction Services.
Architect: Gensler.
Landscape architect: KTUA.
Electrical engineer: Michael Wall Engineering.
Group manager: Juliana Dupuis.
Project manager: Tim Lockridge.
Superintendent: Steve Bastian.
Project coordinator: Kia Hardy.
- - -
Jaynes Corp. is more than halfway through construction of the new 15,250-square-foot library on Aero Drive in San Diego that will serve the Serra Mesa and Kearny Mesa communities. Completion is scheduled for March .
Cost: $6.4 million.
City of San Diego team: Sepi Amirazizi, project manager; Nikki Lewis, engineer.
Jaynes team: Chip Swanson, project manager; Larry Stewardson, superintendent; and Rene Barrera, project engineer.
Architect: Coombs Architecture & Planning, Inc.
Subcontractors: Bonita Pipeline, plumbing; CPC Mechanical, utilities; Team C, concrete; Williams Faber, masonry; Quality Reinforcing, rebar; G.P. May Co., rough carpentry; McMahon Steel Co., Inc., structural steel; Mirstone Plastering, exterior plaster; RDE, drywall; East County Tile, ceramic tile; Howards Rug, floor coverings; Borbon Inc., painting; W.R. Robbins Co., Inc., mechanical; and Sunburst, Inc., electrical.
Send news of contract awards and construction commencement and completion for the Construction Journal to Pat Broderick at pbroderick@sdbj.com or call her at (858) 277-6359, Ext. 3112. Please include the address, contractor, architect, square footage and cost.