AT & T-SBC; Deal Expected to Have Local Biz Impact
Monday, December 5, 2005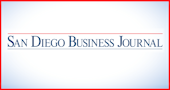 A recently approved merger between SBC and AT & T; is expected to have minimal impact on existing residential customers, but that's not the case for the telecom company's business clients.
The California Public Utilities Commission approved the merger between San Antonio-based SBC Communications and New Jersey-based AT & T; Corp. on Nov. 18, making what is now known as the new AT & T; Inc., the nation's largest telecom company. The $16 billion transaction was finalized by both companies Nov. 25.
John Hull, the vice president of external affairs for the new AT & T; San Diego division, said that the new company's business clients will benefit the most from the merger because more resources will be devoted to developing innovative IP, or Internet protocol, communication products for the business market.
"We view this as a very positive merger for both companies," Hull said, noting that he doesn't see any drastic job or rate changes in the immediate future for San Diego customers, both from the residential and business sectors.
'Minimal Impact'
"I think the impact on San Diego actually will be minimal at this point," said Hull, who declined to give a number of just how many clients AT & T; has in San Diego County, citing a need to protect the company's competitive position in the local marketplace.
The company, which employs about 4,400 people in San Diego County, also declined to release its local revenue numbers for the past year for competitive reasons.
Because so many large businesses already use AT & T; for everything from data networking to voice calling systems, the new AT & T; is in a strong position to dominate the marketplace, according to Mark Winther, group vice president and general manager for IDC, an independent industry analyst firm based in New York.
"Both companies are already both pretty major players," Winther said. "The new AT & T; will be number one in the U.S. market. I don't think anyone would argue with that ... That incumbent position is a real strong one."
Although Hull said that rates are not going to change soon, Winther is not convinced.
"I think one thing to look out for now is when do the prices go up," Winther said. "There has been some erratic pricing in the market. Sales forces out there had to do some major lowball pricing leading up to this."
Marketing Plan
To solidify its position in the telecom marketplace, the new AT & T; plans to launch an aggressive campaign to promote its new logo, Hull said. The new logo is a spin on the pre-merger AT & T; globe symbol and will be showcased on a redesigned billing statement form, company technician vehicles and company buildings, along with traditional media advertisements.
The move is not surprising, Winther said.
"The new AT & T; is going to put a lot of effort in the marketing side," Winther said.
Although the color remains blue, the new logo is a three-dimensional version of the first. The new logo is also designed with a transparent look to represent the company's vision, and the actual AT & T; lettering has been lowercased to look more accessible and welcoming, according to company statements.