Jack Closes Out $2.5B Year
Thursday, December 1, 2005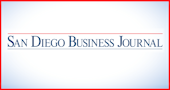 San Diego-based fast-food chain Jack in the Box Inc. reported net earnings of $21.5 million, or 59 cents per diluted share, for the final quarter of its fiscal year, which ended Oct. 2. Revenue for the quarter was $601 million, up from $594 million in the year-ago quarter. Net earnings of $21.5 million were slightly higher than the $21 million recorded in the year-ago quarter.
A one-time tax-rate reduction, as well as a $2 million after-tax charge relating to the cancellation of its JBX Grill test, affected yearly earnings per share. The JBX Grill project let Jack in the Box test a fast-casual restaurant concept.
For the year, Jack in the Box reported net earnings of $91.5 million, or $2.48 per diluted share.
Revenue for fiscal 2005 was $2.5 billion, up from $2.3 billion in fiscal 2004.
The company operates more than 2,000 restaurants in 17 states, and trades on the New York Stock Exchange as JBX. Shares stood at $34.28 in late morning trading Dec. 1. It closed the day before at $33.60.
, Brad Graves