Union Refrain: Aguirre Is Not Our Lawyer
Monday, August 29, 2005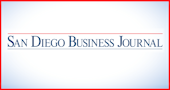 The San Diego Municipal Employees Association on Aug. 29 began gathering signatures outside City Hall to prevent City Attorney Michael Aguirre from representing employees in pension litigation.
The petitions being circulated declare that, "Michael Aguirre is NOT my lawyer and he does NOT represent me."
Aguirre, who is battling in court to become the chief legal adviser of the San Diego City Employees' Retirement System, also has called on the city to stop recognizing what he considers to be illegal pension benefits.
"Many of our members feel violated by this attempt by Mr. Aguirre," said Judie Italiano, the president of MEA, which represents more than 6,000 city workers. "They have a legally binding agreement with the city and have already taken cuts in their paychecks and benefits."
Italiano chided Aguirre for what she considers to be a conflict of interest.
"Mr. Aguirre is blatantly violating the California State Supreme Court's Rules of Professional Conduct by claiming that he can represent the interests of city employees with one hand, while he seeks with his other hand to have our pension benefits declared 'illegal,' " she said. "Mr. Aguirre's double dealing erodes public confidence and respect for the law and for the legal profession."
During the next few weeks, MEA said it plans to continue gathering employee signatures, and then present them to the City Council for a declaration that Aguirre's activities are "obstructing the city's progress in solving the pension fund crisis."
Aguirre responded: "I'm not their lawyer. I'm the city's lawyer. What's distressing is that apparently their lawyers are not informing them that they already are represented by their own lawyers. I hope they do that."
Also on Aug. 29, Aguirre issued a response to the $456 million fine that global accounting firm KPMG has agreed to pay to avoid being indicted in a scheme to market illegal tax shelters.
The firm is completing the city's long overdue 2003 financial audit.
"The path taken by KPMG is precisely the one that I have proposed that the city of San Diego take in order to extract itself from the ongoing SEC (Securities and Exchange Commission) investigation," said Aguirre in a prepared statement. "We need to detach the city as an entity from the individuals suspected of wrongdoing and pursue a separate resolution. Individual culpability should be handled apart from this process, since those parties have their own defense counsel paid for by taxpayers. It's time to put the city's interest first."
Aguirre has asked the city to retain the accounting firm of Macias Gini & Co. to work with KPMG on completing the 2003 audit, and any restatement of the city's 2002 financial statements. The California-based Macias has been hired to audit the city's 2004 and 2005 financial statements.