Lodging Group to Back Sanders
Tuesday, August 16, 2005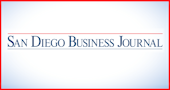 The San Diego Lodging Association could become the first major business group locally to publicly back a candidate for the upcoming mayoral runoff.
According to Ed Netzhammer, a member of the association's board, the group plans to formally endorse Jerry Sanders at a meeting the night of Aug. 17.
Netzhammer, who is the general manager of the Omni San Diego Hotel, said that, in his opinion, Sanders would be more likely than San Diego City Councilwoman Donna Frye to favor restoring funds to the San Diego Convention & Visitors Bureau the county's primary tourism marketing arm.
"We know the city is in tough financial shape," Netzhammer said. "But it's our belief that he (Sanders) would want to support the marketing engine so that it can keep producing what it has produced in the past."
The association, which has about 15 members, including hotel owners, has never before endorsed a mayoral candidate.
Meanwhile, the San Diego Regional Chamber of Commerce is also expected to throw its weight behind one of the two candidates. But to date, it has not done so.
Frye, a clean water activist and owner of a surfboard shop, garnered 43.5 percent of a citywide primary election in late July to replace former Mayor Dick Murphy, who resigned earlier that month.
Sanders captured 27 percent of the vote, while businessman Steve Francis came in third, with 23.5 percent. Francis subsequently threw his support behind Sanders. There were 11 candidates in the race.
The election is scheduled for Nov. 8.
Connie Lewis