Downtown San Diego Visionaries Planted Seeds for Reinvention
Monday, August 15, 2005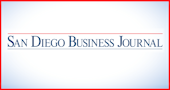 Twenty-five years ago, the city of San Diego's population reached 875,538, while the region's was more than 1.8 million. At that time, the San Diego Trolley, the first line in the city's new light-rail transit system, was dedicated, and San Diego skipper Dennis Conner sailed away with the America's Cup. San Diego's Downtown district , with its blight, bright lights and promise , was still very much a work in progress.
A stimulus for Downtown's progress has been Horton Plaza , now Westfield Horton Plaza , which, on Aug. 9, celebrated its 20th anniversary. A renaissance was further fueled by the San Diego Convention Center, which opened in 1989. The latest jewel to Downtown's crown, Petco Park, stepped up to the plate in April 2004, starting a stampede of commercial and residential activity. But as far as prominent Downtown visionary Peter Hall is concerned, it's never been about bricks and mortar.
"It's about people," said Hall, the president and chief operating officer of the Centre City Development Corp. "It's about feet on the street. Everybody wants to look to Horton Plaza, the ballpark. But in 10, 20, 30 years, they will say, 'We have to tear down Horton, the ballpark.' But, in 30 years from now, 80,000 or 90,000 people will be living Downtown. It's like San Francisco or Boston. The real life of the city is not in its buildings , it's about public space, the public realm. That's what makes a great city."
The CCDC, a public, nonprofit corporation, was formed in 1975 by the city of San Diego to oversee Downtown redevelopment projects. Hall and his staff have seen much progress since that time, building on what was started in the mid-19th century by Alonzo Erastus Horton, who had some visions of his own.
Evolving Downtown
Downtown San Diego has gone through many stages, including the impact of World War II, which made the area especially important because of its harbor and strategic location.
"Downtown became a Navy town," Hall said. "The Gaslamp got seedy. There were prostitutes, bars, MPs, and the sailors were raising cane."
Then came postwar prosperity.
"We were making cars, homes, washing machines, people were having babies," Hall said. "We started building concrete ribbons to Kearny Mesa, Clairemont Mesa, to City Heights. By 1965, the last of the department stores were closing, and business was going out to the malls, said Hall.
"This relegated Downtown to jails, lawyers, banks and governance," he said. "We had the city Monday to Friday, 8 to 5, then turned out the lights and let the forces of evil take over. The law-abiding would stay on the north side of Broadway. Nobody went across because the south side was seedy."
While the Navy's presence was reduced Downtown, the tattoo parlors, porn shops and bars remained.
"The police had many raids on prostitution, there was the drug culture, and south of Broadway was a dumping ground for the homeless and homeless providers," Hall said.
"A lot of those were in the East Village, the old industrial area of the city, where, in the '20s, '30s and '40s, there were warehouses, meatpacking plants, a lumber yard, and a railroad , where the ballpark is now. All these things had their moment of success in a marginal area, but the whole world moved away from Downtown."
Then Pete Wilson was elected San Diego mayor in 1971.
"The business community and the city fathers went to the mayor and said, 'We've got to change things , bring back retail and housing,' " Hall said. "There was no life."
The vision for Horton Plaza was part of a larger effort to bring retailing back to Downtown, after the stores had "succumbed to suburban sprawls and suburban malls," Hall said.
Ernie Hahn, who was building shopping centers around the region, was selected to build one Downtown. Before Hahn began construction in 1982, CCDC purchased the 6 1/2-block area, relocated utilities, reconstructed streets, installed new curbs, gutters and sidewalks and improved the historic Horton Plaza Park, for a total of $33 million. The agency also created the Lyceum Theatre, opened in 1986, for an additional $7 million.
According to Frank J. Alessi, CCDC's vice president and chief financial officer, private development costs for the project amounted to $182 million, including $57 million for the adjacent 451-room Westin Horton Plaza San Diego, a separate project, but part of the same plan.
During the process, tax increment, tax allocation bond proceeds, city and developer advances were made until the property taxes increased from the new development to support additional tax allocation bonds to pay off the advances with interest, he said.
The original plan was to build a conventional mall, like the ones springing up around the nation's suburbs, but then architect Jon Jerde came on board with his own vision.
"He was young and brash," Hall said. "He had seen festival malls back east , with entertainment, food courts."
Then there was another novel idea involving parking , go vertical.
"If it's confusing enough you couldn't get out, and you'd spend more money," Hall said.
The result was a nontraditional design for Horton Plaza, with three anchors , Nordstrom, Mervyns, Robinsons and the Broadway , theaters, restaurants and typical mall tenants. The parking went vertical and was wrapped to hide it.
"All of this created what is today still considered one of the great urban designs for a shopping mall," Hall said, "and it continues to perform."
Making Money
Currently, the property is assessed at about $200 million, generating $2 million in annual property taxes, according to Alessi. Participation in "overage" rents and parking revenue , the amount reached at a certain threshold , by the CCDC is currently $1 million annually, while sales taxes generated for the city are about $2.2 million a year. The Westin hotel generates about $2 million in transient occupancy tax to the city, he said.
Today, the 900,000-square-foot Westfield Horton Plaza, currently owned by Westfield America, consists of three anchors , Nordstrom, Mervyns and Macy's , and about 140 specialty shops, with structured parking adjoining and below the complex, providing for about 2,800 parking spaces.
"Horton Plaza was the key," said Pam Hamilton, CCDC's senior vice president, who was part of the team that negotiated the project. "Policy-makers wanted Downtown to become the heart of the region, what it had been, and that had fallen away."
Hamilton understood early on what a challenge Horton Plaza would be.
"It's required a certain magnitude to be successful," she said. "Every department store in this country relies on other stores. A developer has to entice department stores and link the retail shops around them. That's the traditional model.
"We knew that Horton Plaza would be the toughest thing to pull off, and would require corporate entities to pull off the investment," she said. "We had to sell the entire redevelopment plan as a package to show them that, just on the horizon, there would be residents, and expansion of the business district, hotels, and a convention center."
According to CCDC, since Horton Plaza opened, the number of Downtown residents has more than doubled, with 90,000 people expected to live, and more than 155,000 people work, in Downtown by 2030.
While Horton Plaza continues to do well, Hamilton said, "Every major shopping center needs to evolve every seven to 10 years. Horton has tremendous staying power."
Petco Power
Each of the three big developments to emerge in modern Downtown San Diego has stimulated other important projects, Hamilton said.
"The initial residential projects would not have been there without the understanding that Horton Plaza would happen," she said, adding that the Convention Center drew hotels, and Petco Park cleared the blight and brought people Downtown.
"They have a good experience, and say, 'I want to come back and spend some time here,' " she said.
By all accounts, the ballpark is paying off.
According to the official "scorecard," for Petco Park, issued by CCDC, public/private investment has reached nearly $2 billion in 2005, with projects planned or under way that will add 4,613 new homes, 665,870 square feet of commercial space, 747 hotel rooms, and 2,950 public parking spaces over the next five years.
The agency added, "This represents nearly four times the amount of private capital required to support the public investment by CCDC, the port and the city of San Diego to construct the ballpark."
The ballpark has served as a major catalyst for Downtown, said John Kratzer, the president and chief executive officer of JMI Realty, a San Diego-based private real estate investment and development company and subsidiary of JMI, Inc., the investment management company owned by the John Moores family. Moores also is owner of the San Diego Padres. In 1998, JMI Realty was appointed by the city of San Diego and the Padres to act as the master developer of the ballpark district, with $1.4 billion in redevelopment reported to date, according to the company.
"I think we were able to break a logjam in the processing of Downtown and create a momentum for a lot of other projects that might have happened , or might not have," Kratzer said.
"We jump-started the condo housing market in Downtown's urban environment," he added. "This is going on in a lot of cities around the country but it wasn't quite happening here like it had in other areas. We got critical mass. People who wouldn't have considered a Downtown lifestyle have."
The project also has had what Kratzer calls a "huge impact" not apparent to the average citizen , generating a "comfort level" with institutional capital institutions, such as insurance companies and banks.
"That group of people seeing the scale of development Downtown can touch it and feel it," he said. "The early round of development was financed by local banks and entrepreneurial capital, people already present in the marketplace. Now, you have big guns following suit. They want to get in, and they don't want to miss an opportunity."
Reinventing The Gaslamp
Horton Plaza, the Convention Center and the ballpark have had a dramatic impact on the once-seedy Gaslamp Quarter.
An economic analysis of the Gaslamp Quarter, supplied by the Gaslamp Quarter Association, shows that in the period between 1991 and 2001, the combined tax revenues from property tax increment, sales tax, and transient occupancy tax have increased by about 450 percent, or 18.6 percent annually.
"The Gaslamp Quarter has grown from a struggling and desolate 16 & #733;-block district to a dynamic, nationally recognized neighborhood, featuring 100 restaurants, 100 shops and boutiques, 30 nightclubs and 150 professional service firms," said Dan Flores, senior marketing manager for the association.
"Over the past 25 years, the Gaslamp Quarter has been key to the redevelopment of Downtown," he added. "Its original purpose in the '70s was to stimulate commerce for San Diego's Downtown businesses, and compete for customers who were venturing to the suburban shopping malls."
The city and CCDC's investment in new gas-lamp-style streetlights, brick sidewalk pavers and widened sidewalks helped attract visitors Downtown, said Flores, along with such big events as Street Scene, Mardi Gras and ShamROCK , greatly helping area businesses.
With the Gaslamp's location adjacent to the Convention Center, he said, "local businesses started learning the ebb and flow of convention attendees."
"This continued to keep some businesses in operation, and they were able to withstand the extremely slow periods during the winter months," Flores said.
New businesses, such as Croce's and Fio's, that arrived during the boom time in the '80s, decided to take a chance on this developing community, Flores said.
"These pioneers established a vision for the Gaslamp Quarter as a gem in the crown of San Diego's Downtown," he said. "As the businesses arrived, so did the customers."
Then came the ballpark, said Flores, welcoming "a whole new group of visitors to experience San Diego's renewed Downtown."
The Vision Continues
While much has been accomplished Downtown in the last two decades, few seem to be resting on their laurels. Flores, for instance, said that his Gaslamp association has started a $500,000 marketing campaign to promote Downtown, as well as the Gaslamp, to further promote all the activity.
"We are halfway there to build-out," said Hall of Downtown development. "Everybody thinks it's done but there is a lot more to do."
The focus now will be on the private sector, "getting us out of the way, and letting them do it, and getting private capital moving Downtown," Hall said. "Now, everyone wants to be here , lenders, developers, businesses, tenants. We've done what we needed to do to get it going. We need to be more attentive to the needs of people because it's going faster than we thought it would."
The private sector, he said, "seems to be doing a good job."
"Our challenge is to tell them what they'll need in the future before there is a deficiency. Good planning results in all these things coming together. In reality, there is always one thing going really good, and another that's not," he added.
For Hall's part, he's looking forward to his retirement this year.
"It's a great time to break loose and have a lot of fun," he said.