Construction Journal
Monday, August 15, 2005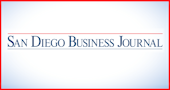 Newport National Corp. has begun renovation of a 120,581-square-foot building in the Carlsbad Research Center in Carlsbad.
Cost: unavailable.
Architect: Smith Consulting Architects.
Senior project architect: Gary Potter.
General contractor: Bycor General Contractors.
Project manager: Glenn Evans.
Construction manager: Scott Merry of Meracon Corp.
Structural engineer: Nowak & Wiseman.
Electrical engineer: Kruse and Associates.
Mechanical engineer: McParlane and Associates.
Landscape architect: Teshima Design Group.
Listing brokers: Andy Melzer, Dennis Visser and Mark Emerick, Grubb & Ellis.
- - -
Smith Consulting Architects has completed design for Faraday Spectrum, an office/industrial park comprised of nine buildings in the Carlsbad Research Center. Construction is scheduled to begin this month, with completion in January.
Cost: $4.5 million.
Senior project architect: Gary Potter.
Project oversight: Mike Card.
- - -
Hamann Construction has begun work on a 48,945-square-foot, two-building, multi- tenant industrial project in Poway. Completion is scheduled for early September.
Cost: unavailable.
Developer: W.H. Pomerado, LLC, a partnership between Whitaker Investment Corp. and Hamann Construction.
General contractor: Hamann Construction.
Project architect: Kenneth D. Smith & Associates, Inc.
Marketing: Ted Cuthbert and Elena Amble of Colliers International.
- - -
Sully-Jones Roofing Co. in El Cajon has completed re-roofing of an office building housing the Pacific Real Estate Group at 990 Highland Ave. in Solana Beach.
Cost: $54,000.
Commercial project manager: Ben Scales.
- - -
Graham Downes Architecture in San Diego has started work on the renovation of 2121 Haus, a 33,000-square-foot commercial office building in Las Vegas. HCA Architects, the design firm's Las Vegas office, maintains its headquarters in the building and is serving as architect for the project.
Construction is scheduled to begin in August, with completion scheduled for January.
Cost: $1 million.
Developer: Blokhaus Development LP of San Diego.
Design principal: Graham Downes.
Design and job captain: Eric Niebuhr.
- - -
Diversified Construction Technologies, Inc. in San Diego recently completed construction of the 2,500-square-foot Cosmetic Dentistry Center of San Diego in Downtown San Diego.
Cost: unavailable.
Architect: Don Pitman.