Otay Industrial Land Being Eyed for Homes
Monday, August 1, 2005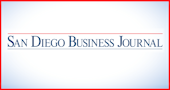 Otay Mesa , like a phoenix rising , seems to be emerging from the ashes this year, sparked by an increased demand for its commercial and industrial land on both sides of the border.
The recent purchase of a 40-acre parcel and the pending deal of a nearby 50-acre piece of land by Los Angeles-based Kearny Real Estate Co. for a total of $10.9 million reveal a renewed interest in property just north of the U.S.-Mexico border.
But tensions continue to simmer over a tug of war being played out between industrial and residential interests for land that has been called "the last frontier" for San Diego development.
Alejandra Mier y Teran, the executive director of the Otay Mesa Chamber of Commerce, worries about the area's future.
Otay Mesa is in the process of updating its community plan, and she sees trouble ahead , primarily a push on some fronts to replace prime industrial land with residential to help ease the county's housing crunch.
"We have a lot of concerns right now," said Mier y Teran, fretting a major rezone of what she called the heart of the industrial area.
"Why do that?" she asked. "We are the last of the places where San Diego has the opportunity to grow in terms of industrial employment land. Our commercial port of entry eventually will be 24 hours."
While some companies are pushing for additional hours of operation, Mier y Teran said she sees opposition from the proponents of residential rezoning.
"I'm concerned that companies will end up paying more money to satisfy the residential requests, from light-glare abatement to rerouting trucks, because they don't like them going through the neighborhood, limiting the hours of operations, or additional hours for the port of entry," she said.
Mixing industry and residential could lead to some serious environmental and health problems, she added.
"Imagine, 3,500 trucks transiting Otay arterials every day," said Mier y Teran. "That can be very hazardous, commingling with residents, kids. It could be quite a challenge, also, for the environment, with diesel emissions."
The first public workshop on the plan is scheduled for Aug. 4. One pivotal figure now absent is Ralph Inzunza, who recently resigned his 8th District San Diego City Council seat after he was convicted of wire fraud and extortion charges.
Mier y Teran said Inzunza had been "very helpful" in getting funding for the plan, but added, "the city is broke, and the city delayed it."
"Now, there is a coalition of developers funding the plan update , the same ones who are proposing a rezone to residential," Mier y Teran said.
"We need a plan for the future, but we have major concerns of changing the whole nature of Otay Mesa," she added. "Anything that affects our competitiveness, any other burden will just add to the cost of companies locating in this region and they will move someplace else. We want to remain a competitive, vibrant area. We want to make sure they understand this."
Mary Wright, program manager for the city's Planning Department, who is taking the lead on the Otay plan update, confirmed that a coalition of seven San Diego businesses are helping to fund the update in exchange for expediting the process.
"Plan updates typically are in the general fund program, but as our staff got stretched more and more, the timeline was extended," she explained of the Otay plan.
While the plan is still drawing on some money from the city's general fund, Wright said that the coalition came forward with its offer and hired consultants to handle the environmental and other technical studies.
All of them , Pardee Homes, McMillin Land Development, Sunroad Development, Integral Partners, Murphy Development, Inc., Centex Homes, and Western Pacific Housing , own property in Otay, Wright said, and want changes to the plan.
"We said, 'We won't commit to what your proposals are, but we will try to expedite if you will help us with funding,' " said Wright.
Hot Topic
How much of Otay's industrial land could be converted for residential use?
"That's the million-dollar question and the reason for the workshops," she said. "We have a housing crisis and we need to look for other opportunities. If we can verify that there are excess lands, we will probably support conversions. But how much is still to be determined."
Wright said the update will probably take a year before it goes before the City Council for consideration, at which time, she added, there would be a replacement for Inzunza.
Dave Nielsen, owner's representative with MNA Consulting, a Downtown San Diego-based land-use consulting firm and a spokesman for the developers' coalition, said he believes that a plan can be put in place that will serve everyone's needs , both residential and industrial in Otay.
So far, he said, the developers have invested "several millions" of dollars toward that end.
"The community plan is so out of date," said Nielsen. "It's almost impossible to get anything approved there."
The developers, he said, are interested in building affordable housing in Otay, along with a full range of residential development.
"We will continue working with Alejandra," said Nielsen. "We are eager to get all the issues on the table. We agree that there should be industrial sanctuaries, where industry is protected, with proper spaces between industry and residential. We fully acknowledge their concerns. They are legitimate concerns, but with good planning, these issues can be dealt with. If everybody is aware of each other's issues, I'm confident that the plan will work for everybody."
Industry Booming
While the future of Otay Mesa might be in flux, the county's industrial market in general "is on the way to its best year since 2000," with increasing tenant demand, according to San Diego-based Burnham Real Estate's second-quarter report.
Most of the 2.1 million square feet of new construction is occurring in the northern and southern parts of the county, it said, "where more land for development is not only available, but is priced more competitively than the traditional mid-county markets."
Burnham shows that Otay Mesa leads in new construction with 674,800 square feet under way in projects, including the Piper Ranch Industrial Center, a four-building, 84,000-square-foot park; and Opus Crossings, an eight-building, 322,500-square-foot industrial park.
But, the report notes, Otay Mesa also has one of the highest sub-market vacancy rates , 20.3 percent on leasable inventory and 14.9 percent on total inventory, including owner-occupied space , most of this due to new space that has been completed, but not yet occupied, according to Mickey Morera, a senior vice president with Burnham Real Estate.
Major tenant activity includes the 49,300-square-foot purchase of 8640 Siempre Viva by Accel Transport. Brokerage & Logistics Solutions moved into 28,500 square feet on Gailes Boulevard, and four buildings totaling 59,200 square feet in One Piper Ranch were occupied by owner-users.
Major move-outs, according to the report, included Martin Furniture's vacancy of 24,000 square feet in Britannia Commerce Center; New Line Container's vacancy of 40,000 square feet on St. Andrews Avenue; and 54,000 square feet vacated by Maxwell Corp. in the San Diego Business Park.
A recent big deal in Otay Mesa involves Kearny Real Estate Co., which just closed on 40 acres of industrial land at Britannia Boulevard and Siempre Viva Road, two primary arterials in Otay Mesa, and expects to close on an additional 50 adjacent acres in September. The total purchase price is $10.9 million.
Along with partners Keeton Construction of Temecula and Pacific Coast Capital of Scottsdale, Ariz., the company intends to develop a 1 million-square-foot business park near the Mexican border.
The parcels are in a strategic location, with access to state Route 905/Otay Mesa Road and state Route 125, which is scheduled for completion in the fourth quarter of 2006, and will connect Otay Mesa to the communities of Eastlake and Otay Ranch.
The plan is to subdivide the two parcels into small lots, suitable for business park units, from 2,000 to 15,000 square feet, to stand-alone buildings starting at 20,000 square feet for either speculative or build-to-suit. The company also will be offering some small lots for sale.
The infrastructure for the first phase is expected to be in place by the third quarter of 2006, ready for the first buildings to break ground, said John Bragg, Kearny's vice president and head of the firm's San Diego office.
"It's been slow for a couple of years," said Bragg of Otay Mesa's industrial development. "It was flat-lined. Now, it's starting to get its second breath, hopefully. Our goal is to draw off the continuing story of the Mexican maquiladoras connection and the new vitality for that. A San Diego-based business can now access this a little better. There are more homegrown businesses. It's not totally distribution-oriented; it's more of a blend."
It's Kearny's first purchase there, he said. Among the company's other projects in the county was the Scripps Northridge Corporate Center, a 120-acre corporate park along the northeast corner of Scripps Poway Parkway and Interstate 15.
Bragg doesn't anticipate any immediate problems from the sudden absence of a district representative.
Bragg said he's focusing on "the final map" on the property , going through the nuts and bolts of the development phase with civil engineer Kimley-Horn & Associates, Inc. of San Diego, addressing such issues as roads, drainage, sewers and grading.
"Typically, Otay is a friendly place," he said. "It is what it is, a business area, an industrial area. It usually goes pretty smooth, unless we break rules, and we are not doing that. We're going straight ahead."
Bragg said he doesn't anticipate any obstacles to the development.
"The only problem is traffic, but 125 and 905 will alleviate a lot of that," he said. "The only potential problem is, are you going to create traffic over and above. I can't answer that. I'm a low generator, so I think I'm OK."
But a big factor in the success of industrial developments also involves interest rates, said Chris Holder, a vice president with Burnham Real Estate.
"The key to any industrial market is leasing activity," he said. "It's the heartbeat. Without that, developers stop coming. There's been great activity all over the county for spec buildings, for small to medium-size companies. They're driving the market. Without leasing, developers will stop focusing on San Diego."
Leasing activity dampened a bit last year, he said, because "there was a lot of activity in owner-user buildings."
"A lot of companies that might have considered leasing, but end up buying buildings. The interest rates were really attractive and the product was available," Holder added.
Bragg acknowledged the ebbs and flows of the market can hurt or help his project.
"If the top came off of the real estate market in general, it would have a residual effect," said Bragg. "But the property is fundamentally very sound, with lower prices than the glamour properties in the north. I don't see a lot of negatives."
At build-out, scheduled in the next five to seven years, more than 1 million square feet will have been constructed at a projected cost of about $90 million, according to Jeff Dritley, Kearny's managing director.
Preparation for Phase II of the project, involving the second parcel, should take about 2 & #733; years before ground is broken, said Bragg.
While he has no tenants or buyers lined up just yet, he's confident about the location.
"The area has a good future," he said. "A lot of the dirt up north is so expensive, people can't build traditional industrial. They have to do R & D; (research and development) or office buildings. Otay's time has arrived. I think it will continue to do pretty well."
While Otay Mesa remains a relatively affordable place to buy industrial property compared with the rest of the county, Holder said prices are getting higher , about $100 to $130 a square foot for smaller units, and more than $85 a square foot for the larger ones , an increase of about 30 percent over the past year.
"It's a high increase," he said, "with owner-user prices catching up to the rest of the county."
His prediction for Otay Mesa: Lease rates will rise.
"They've been pretty flat for the last couple of years," Morera said.
Vacancy rates are going down as existing projects fill up.
"There's no new spec space and little spec space is built, but overall, the market dynamics are improving," he said.
In northern Mexico, said Holder, the electronics industry, big-screen televisions, medical manufacturing and automotive are moving in.
"It trickles over to Otay," he said, "with warehousing and office driving the market. With the completion of (Highway) 125 at the end of the year, connecting Otay, it will be a great boost to bringing the employment base closer to Otay."
Rents will be increasing in Tijuana, with no vacancies and no more room to build, he added, while new companies will be moving into Mexico, requiring offices and warehouses north of the border.
Holder also predicts there will be some migration from East County to Otay, due to the lack of industrial land available in other parts of the county.
Rudy Mendoza, with Grubb & Ellis/BRE Commercial's industrial group, works in the firm's new Otay Mesa office and predicts that Otay will emerge as the next Sorrento Valley.
"For the past five or six years, there has been tremendous growth in Otay, with large companies like Mattel, Bose (speakers) and UPS coming down to utilize developers to do their build-to-suits , like Sorrento Valley," he said.
He also believes when Highway 125 is completed, "We will create owners that live in Eastlake. There is not much space available in Chula Vista or National City. Some companies that normally end up going to those areas will be drawn to look for space in Otay Mesa. Now, it's a trek coming out here. But with 125, and the expansion of the 905 freeway, it will definitely create a lot of traffic."
Meanwhile, said Mendoza, companies such as JVC, Maxell and Hitachi, which are building their products south of the border, with distribution facilities in Otay, are "bound to grow with all the activity of more industrial building and a lack of product in Chula Vista and South Bay in general."
"This is the last frontier of space," he said.