Mayor's Race Becomes a Matter of Business
Monday, August 1, 2005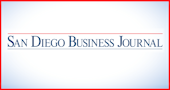 Who is perceived as pro-business has often played a role in San Diego politics, but it seems to be especially resonant in the current race for mayor.
On July 26, in a special election to replace Mayor Dick Murphy, who stepped down July 15, San Diego City Councilwoman Donna Frye received 43.5 percent of the vote, leading a pack of 11 candidates in the race. Former San Diego police Chief Jerry Sanders took second with 27 percent of the vote, while businessman Steve Francis took third with 23.5 percent. Frye and Sanders will compete in a runoff set for Nov. 8.
Frye has often found herself fending off accusations that she is anti-business, pointing out that she, too, runs a successful surfboard business, along with husband Skip. Sanders has been credited with helping to turn around two floundering nonprofits , the American Red Cross San Diego/Imperial Counties and the United Way of San Diego County. Yet, Francis, a wealthy and successful businessman, came in third.
"Pro- or anti-business is the wrong discussion," said Donald Cohen, co-founder and executive director of the San Diego-based Center on Public Initiatives, a nonpartisan, nonprofit research, organizing and advocacy group. "Business versus labor , everything is defined in those terms in San Diego, and that's the wrong way to go.
"There are plenty of things happening with the city that are good and help business grow and prosper, and help families and the communities. There are very few things in terms of what the city is all about where that divide matters.
"If you look at the business community in town, they're screaming," he said. "What are they screaming about? A living wage? How does that hurt business? Are they less profitable? The housing market is supercharged, tourism is doing extremely well, our mainline businesses are doing extremely well. I don't know why this anti-business is a big issue."
Follow The Money
What matters in this election , and all the others , is how campaign contributions can be used to peddle influence once a candidate takes office, said Paul Karr, also with CPI.
"My perspective is, if you understand where the candidates are getting their money, you will understand the values that are driving the candidates," he said. "A lot of times, politicians get into office beholden to those who get them there financially. They often have a lot of influence. To the extent we're able, we need to be as aware of that as possible."
To that end, CPI spent considerable time and effort posting all of the candidates' campaign contributions on its Web site.
"I think all local governments should consider making this more accessible to the public," said Karr.
Who's spending what on this race? Francis ended up spending "in the seven figures," although, he said in a postelection interview, "We're still adding it up."
He predicts that both candidates also will end up spending "about seven figures," with the help of independent groups working on their behalf.
"It's hard to compete when you can only raise $300 a pop," said Francis, who on July 28 endorsed Sanders for mayor.
Independent expenditures , where groups help out with mailings and phone calls but are not formally connected to a campaign , are "really what helps candidates the most," said Mitch Mitchell, the vice president of public policy and communications for the San Diego Regional Chamber of Commerce.
"It could be a very, very expensive race, and the independent expenditures in this runoff could be astronomical," Mitchell said.
Sanders said his campaign has raised about $400,000.
"That's what we want to raise again," he said in an interview the day after the election. "But I don't want to be extravagant, with mailers and TV. I'd rather talk about the issues in different ways."
Cohen predicts at least $1 million will trickle down to Sanders, who is generally presumed to be the business candidate, compared with Frye. But Sanders doesn't see it that way.
"I consider myself a candidate for a lot of different groups in San Diego," said Sanders. "I'm not a candidate for any one group."
The Business Candidate
The San Diego Regional Chamber of Commerce seems to be leaning his way. While the business group hasn't endorsed a mayoral candidate in the race, it hasn't ruled it out either.
According to Mitchell, the chamber's board has authorized the endorsement committee to re-interview Frye and Sanders and possibly consider an endorsement at its August meeting.
"It's a critical election for an organization like ours," said Mitchell. "We have to look at who will lead the city in the most effective fashion, and who the best personality is for the city and business community in the months ahead."
Who is most likely to lead the city out of what Mitchell called "an unbelievably horrific situation?"
"Donna often is pitted as being anti-business," he observed. "There are some instances when we are in the same vicinity, but not on the same page.
Obviously, Jerry will be a much stronger business candidate because of his background in recent years."
Sanders, said Mitchell, will "probably align" with a larger number of issues of concern to the business community.
"His experience with the United Way and the Red Cross, his efficiency and effectiveness, gives him more credibility with the business community."
But Mitchell acknowledged that, "The city is a $2.5 billion corporation, and it's harder to operate than a nonprofit because of the ongoing problems to overcome. It will take a combination of personality, knowledge and vision, and in particular, leadership skills to move the city forward."
Francis, who, with his wife, started his now-lucrative, publicly traded traveling nurses business, San Diego-based AMN Healthcare, from his kitchen table, spent his campaign touting the need to run the city as a corporation. His business advice to the candidates would be to "approach government differently," said Francis.
"There are some business principles you can apply to government, and they should seek those management techniques from the private sector," said Francis. "If you want to reform City Hall and save money, hire business executives to come and help streamline. You have to fill your management team with people like that. I'm talking about some serious recruiting here."
But the CPI's Cohen said he's tired of hearing about how the city should be run as a business.
"Donna is a businessperson, and she takes some pro-business stances, and she has good management and accountability in budgeting," he said. "What keeps getting bandied about is, 'We want to run this city as a business.' But a lot of businesses are run poorly, and a lot of cities are run well. It's not about business, it's about management."
Mitchell conceded that, "Donna's operation of a surf shop does qualify her as a small-business owner, and something that can't be discounted. But in the big picture, the city's situation is going to be about looking at the city's business climate and deciphering how to not only keep business here, but business that continues to grow."
Mitchell predicts that the race could "turn into a classic labor versus business battle."
"It shouldn't be, but it could turn into that, as the labor council has endorsed Frye, and the business community has been split in the primary. But we'll probably see them unite behind one candidate," Mitchell added.
Groundhog Day
Matthew Adams, the vice president of government affairs for the Building Industry Association of San Diego, has been monitoring every detail of the race.
"I've dedicated a page on our Web site to this campaign," he said. "I pull every article on the race and put it on a single page. It's like the Drudge Report, only without the attitude."
But even with all this political scrutiny, Adams said the BIA will not be making an endorsement. And, while individual members have contributed to individual candidates, he said, "The BIA has made no such contributions to any of them."
Adams said he's impressed with both the candidates and the tone of the race so far.
"Personally, I thought this was probably the best group of candidates for mayor the city has seen in a generation," said Adams. "The discussion on the future of San Diego was substantive and lacked the rhetoric you see in campaigns."
For the BIA's part, the issue it is most concerned with, he said, is housing.
"We are focusing on housing affordability, which is a key issue," said Adams. "It is the one thing that has been a source of frustration, how little the City Council has done to address the housing crisis. It's been nothing but talk and taxes. We want to see them delve into regulatory reform that will allow us to build the houses we need."
In the meantime, he's waiting for that Nov. 8 runoff.
"It's like Groundhog Day in San Diego," Adams mused. "We're always having an election coming up. It's no wonder the city is in the situation it is now. Everyone's too busy campaigning."