County's Industrial Market Rivals the Demand From 2000
Monday, August 1, 2005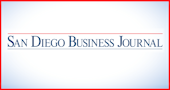 Glad tidings from Burnham Real Estate. According to its second-quarter study, the San Diego County industrial market is on its way to its best year since 2000, with increasing tenant demand driving strong net absorption.
"The 1.8 million square feet of year-to-date net activity is well ahead of the 1.3 million square feet recorded for all of 2004," said Mickey Morera, senior vice president with San Diego-based Burnham. "By year-end 2005, net absorption could top 2.6 million square feet for the market's best year since 2000, when a record 4.6 million square feet of space was absorbed."
Some 585,000 square feet of new industrial space has been added to the market this year, most of which occurred in existing space, according to the report. An additional 2.1 million square feet of new industrial space is under construction, 1.9 million square feet of which will be completed by year's end. Of this, 39 percent , or 723,000 square feet , is already spoken for.
A few tidbits:
- Healthy demand has helped lower vacancy on total leasable inventory to its current rate of 8.5 percent, down from 9.3 percent as of Dec. 31.
"The trend of users buying their own facilities is removing more space from the leasable inventory, accounting for its higher vacancy rate," said Tucker Hohenstein, senior vice president with Burnham Real Estate. "However, the strong net absorption projected for the year is expected to lower the countywide vacancy to just 5 percent."
- Most of the 2.1 million square feet of new construction is occurring in the northern and southern parts of the county where more land for development is not only available, but is priced more competitively than the traditional midcounty markets.
- Otay Mesa leads in new construction with 674,800 square feet under way in projects, including Piper Ranch Industrial Center, One Piper Ranch and Opus Crossings. Poway is next, with 496,684 square feet being built, including a 190,000-square-foot build-to-suit for Toppan Electronics. The Highway 78 corridor follows with a combined total of 496,684 square feet of new construction in Oceanside and Vista.
- The San Diego County research and development market continues to be much softer than its industrial counterpart.
"This is due, in part, to the oversupply of office space that occurred from 2001 to 2004," said Hohenstein. "Because much of the traditional R & D; use is office-related, this sector had to compete with the wave of attractively priced office space that hit the market in 2000 and 2001.
- Year-to-date net R & D; absorption totals were just 138,437, well below the pace set last year when 818,626 square feet was absorbed, according to the report. However, after several years of no new construction, there now is a little more than 1 million square feet of new space under way, most of which is located in the Highway 78 corridor. With 76 percent of this space involving pre-committed build-to-suit contracts, absorption should increase significantly in the next 12 months.
- - -
Sunroad Also Rises: Sunroad Enterprises will begin construction in October on the first phase of Sunroad Centrum, a three-building, 1 million-square-foot Class A office park that will be built on the former General Dynamics site in Kearny Mesa.
Billed as the largest contiguous Class A office development in central San Diego, Sunroad Centrum is being built on a 40-acre parcel within the master-planned, 244-acre San Diego Spectrum business and residential community. It will include retail to service office users, as well as residents of more than 1,500 new condos and apartments that exist or are being built adjacent to the project.
Designed by Brian Paul & Associates, the first phase, expected to be completed in the first quarter of 2007, will offer about 300,000 square feet of office space in a 12-story reflective glass tower above one level of subterranean parking.
Burnham Real Estate is the listing broker, and will be represented by Mark Wayne, Dan Runyon and Eric Vann.
- - -
Big Buys: Bernardo Hills, a 248-unit condo rental community in Rancho Bernardo, has sold for $53 million, reported CB Richard Ellis.
The seller was RREEF, and the buyer, Aslan Realty Group of Irvine, plans to convert the property into for-sale condos. J. Kevin Mulhern, Dixie Hall, Dick Schneider and Rachel Hemingway of CB Richard Ellis' San Diego Central office represented both the seller and buyer.
Voit Commercial Brokerage recently handled the $16.2 million sale of Napoli Business Park, a 112,086-square-foot, six-building R & D;, office and industrial park in Poway.
Al Pekarcik and Dan Vittone, of Voit Commercial's Irvine office, and Harry Stone of its San Diego office, represented the seller, Laguna Bach-based Foremost Business Parks, LLC. Transwestern Commercial Services represented the buyer, Moss Point Poway, LLC.
- - -
Coming To The Neighborhood: Downtown San Diego continues to percolate. Groundbreaking is scheduled in September for Austin Veum Robbins Partners' Sapphire Tower, a 30-story, 187,000-square-foot, mixed-use residential and commercial high-rise at Kettner and A Street in Downtown San Diego.
The estimated $50 million project will include six studios, 18 one-bedroom, 62 two-bedroom and 10 three-bedroom units. There also are 168 parking spaces in a five-story subterranean parking structure.
Sapphire Tower is slated for completion in the fall of 2007.
The company also plans an October groundbreaking for Library Tower, a $72 million, 40-story, 232,000-square-foot, mixed-use residential and commercial high-rise in Downtown San Diego's ballpark district on K Street between 12th and 13th streets.
Library Tower is scheduled for completion in early spring of 2008.
Send residential and commercial real estate news to pbroderick@sdbj.com or via fax at (858) 571-3628.