Sempra Taps Russia
Monday, April 25, 2005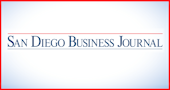 The liquefied natural gas terminal Sempra Energy would like to build off Baja California near San Diego may one day become a North American point of entry for Russian natural gas.
Sempra Global, the umbrella for San Diego-based Sempra Energy's businesses operating in competitive markets, has signed a memorandum of understanding with Gazprom, billed as the largest natural gas producing company in the world.
The nonbinding agreement involves the import of Russian liquefied natural gas into Sempra LNG's receipt terminals under development in North America, and marketing the natural gas through an arrangement with Sempra Commodities.
Sempra LNG, a unit of Sempra Global, is developing three LNG receipt terminals in North America. Its Energia Costa Azul terminal in Baja California is under construction and on schedule to be operational by 2008. The Cameron LNG terminal near Lake Charles, La., is fully permitted and could begin operations in 2008. The third LNG receipt terminal, Port Arthur LNG, near Port Arthur, Texas, is in the permitting process at the Federal Energy Regulatory Commission and could be operational in 2009.
The agreement is considered an important step in providing Russian gas supplies to the U.S. market, said Alexey Miller, the chairman of Gazprom.
"Sempra Global is well-positioned as a gas-trading transportation company in the United States and, because they do not intend to enter the production business outside the United States, they make an ideal partner for us," he said.
Pat Broderick