Group Tours S.D. Stem Cell Site May 1
Tuesday, April 19, 2005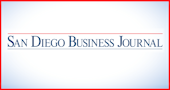 Six members of the eight-person site selection committee of the California Institute for Regenerative Medicine are expected to come to La Jolla on Sunday, May 1, to inspect the facility that San Diego officials hope will become the permanent headquarters of the stem cell institute.
A tour of the Torrey Pines Science Park at 11025 North Torrey Pines Road will take place between 9 a.m. and 12 p.m., said Julie Meier Wright, president and chief executive officer for the San Diego Regional Economic Development Corp., which is hosting the event.
Members of the committee will tour San Francisco's proposed site at 250 King St. in the city's Mission Bay district from 2 to 5 p.m. Friday, April 29.
The site visits are seen as key, because the committee, which includes two San Diegans (Dr. John Reed, president and chief executive officer of La Jolla's Burnham Institute and Richard Murphy, the president and chief executive officer of La Jolla's Salk Institute) will give final recommendations that will factor into an overall scoring system that has already ranked San Diego third among four finalists.
San Francisco ranked first, Sacramento second, and Emeryville -- which is the temporary site for the institute -- fourth.
The stem cell institute was approved by voters as Proposition 71 in November.
It will employ roughly 50 people, but is expected to bring added prestige and an economic boost to the winning city.
The winner is expected to be announced May 6.