San Diego Community Bank Loses SBA Loan Unit
Monday, April 18, 2005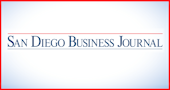 SBA lending is hot, and so are bankers who specialize in Small Business Administration guaranteed loans.
One Chula Vista bank discovered how competitive the market is for such loan officers this month when it lost its entire department of four people to a rival bank in the same city.
"One day they were here, and the next they were not," said Tom King, the chief executive officer of San Diego Community Bank, a $75 million asset commercial bank in Chula Vista.
Larry Benthien, the president of Seacoast Commerce Bank, which opened in mid-2003, said it was always part of his bank's strategy to offer SBA loans, and he is simply taking advantage of an opportunity.
"We put the word out that we were looking to open an SBA department, and they called us," Benthien said. "Anytime you can hire someone who is familiar with the marketplace and you don't have to worry about relocation expenses, it's a real plus."
Benthien doesn't feel guilty about hiring his rival's entire SBA department.
"A lot of people change jobs in the banking industry on a regular basis," he said.
Now running Seacoast Commerce's SBA department is Jocelyn Brown, who was at San Diego Community for about a year and a half. She is joined by Dale Smith, Craig Raymond and Maria Reyes. Benthien did not reveal whether he gave his new employees more money than they were paid before. The four bankers could not be reached for comment.
King, who helped turn around San Diego Community last year by attracting $6.5 million in new capital, enabling it to grow, said he doesn't harbor any ill will about the sudden exodus of talent. But he's disappointed in the way his former employees abruptly left without giving any notice.
"I hold no ill feelings about this at all, but I'm disappointed people weren't more upfront with me, but that's life," King said.
San Diego Community wasn't exactly tearing up the record books when it came to SBA lending. For the fiscal year ended Sept. 30, it made 30 SBA loans for $9.15 million. That was the eighth largest among all banks in the county on the San Diego Business Journal's List of SBA lenders based on the number of loans made.
San Diego Community, formerly called First International Bank, didn't waste any time rebuilding its SBA department, hiring Larry Lay to get the program back up to speed.
King said the mass departure wouldn't hurt his bank that much.
"It's not a huge part of our business," he said. "We're a commercial business bank that does SBA lending as a part of the financial solutions we offer."