San Diego Ranked as No. 3 Choice for Stem Cell Effort
Tuesday, April 12, 2005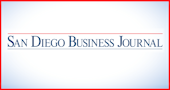 A building on Torrey Pines Mesa is among four sites that remain on the California Institute of Regenerative Medicine's list of possible headquarters.
The four sites are competing to be permanent headquarters of the $3 billion stem cell research program.
John Reed, president of the Burnham Institute of La Jolla, who sits on the state's site search subcommittee, said the state Department of General Services and the California Institute for Regenerative Medicine arrived at four final locations San Diego, San Francisco, Emeryville and Sacramento from a list of 10 sites.
The short list was based on an incentive-laden scoring system looking at eight criteria, such as free rent and proximity to the airport.

Reed said Wednesday he would like to see clarification about how the scoring system was arrived at.
San Diego ranked third in the scoring system. San Francisco was the front-runner; Sacramento was second and Emeryville came in fourth.
Reed said he didn't think that the scoring system should be used as the deciding factor for the permanent location of the institution.
"We have to discuss whether it should be the basis for reducing it to a reasonable number, but it should not be the sole mechanism to choose the ultimate site," he said.
The institute for regenerative medicine was formed after voters approved Proposition 71 in November. The institute has asked local government entities, working in partnership with building owners, to provide 17,000 square feet of office space at "little or no cost."
The full committee said it would take its final vote on May 6.
For more information, go to the CIRM's Web site at www.cirm.ca.gov.