All the More Reason to Salute S.D.
Monday, April 4, 2005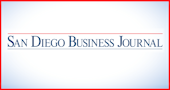 Like it or not, most of the country , and the world, for that matter , still thinks of San Diego as a sleepy little Navy town perched next to the Pacific Ocean and just north of the Mexico border.
You might be able to argue the "sleepy little" tag, but geographically and militarily, folks living in Sheboygan and Teaneck pretty much have us pegged. Fact is, as much as San Diego's economy has diversified from its near-complete reliance on defense companies such as General Dynamics and Hughes Aircraft during the last 15 or 20 years, we're still the second-largest military town in the world.
All those massive battleship-gray vessels in our harbor, all those jets and choppers from Miramar and North Island buzzing overhead, all those sailors and Marines sipping lattes at Starbucks and filling seats at Petco Park are keeping defense firmly entrenched as the region's No. 2 economic industry.
And just so it's on record once again, the military is on track to generate an additional $12 billion or so locally this year, just like it did last year. Beyond the hardware and personnel, that number includes the Titan Corp. and SAIC and Goodrich Aerostructures and the literally thousands of other companies that directly and indirectly service the military, from jet engine designers and builders to dry cleaners pressing a master chief's khakis.
San Diego and the military are synonymous; we are joined at the hip. We utter a little prayer for a safe return when a battle group departs, and we smile and breathe a sigh of relief when another military unit has returned home safely.

Considering San Diego and the military are so closely linked to each other, it bothers me a little to see such a poor showing in a survey by the Navy Times newspaper of the 241 best employers for the National Guard and military reservists.
Actually, it bothers me a lot.
Business and government here talk a good game when it comes to supporting the military. They hang out flags and drape buildings with yellow ribbons, yet when it comes to supporting those people willing to go above and beyond in the reserve or the Guard, this survey tells a completely different story.
The Pentagon has a list of some 1,500 employers nationwide that provide special benefits for employees in the reserve or National Guard, and of the 241 entities topping that list , it was broken down into private industry and government agencies , only three San Diego County-based companies made it. Some showing for a Navy town.
The Times' survey appears in its March 28 issue and uses some very basic criteria: Whether employers are willing to provide extra benefits in case of mobilization, such as making up lost pay while on active duty, how long a company is willing to endure losing an employee to reserve duty, and will that company continue providing health-care benefits to the reservist's family.
Now, with thousands of military reservists living in San Diego County, with a multibillion-dollar economic engine still driving the region, with thousands upon thousands of retirees , many of whom run companies or are in key decision-making positions to drive such human resources policies , just three local companies actually put their bottom line where their mouth is?
All the more reason to give these three local firms credit for doing what's right by their employees: Casas International, a San Diego-based import-export brokerage; Homeland Services Inc., a telecommunications/IT services firm in Carlsbad; and Solar Turbines, Inc., which manufactures, well, gas turbines. To be fair, a large number of companies that made the list are based elsewhere but have a large presence here , Raytheon, EDS, Merrill Lynch and Novartis Pharmaceuticals are just a few of the names.
Which brings us to the most glaring omission: The list of federal/state/local governments is void of any San Diego agencies willing to step up for their country.

Sacramento County made the list. So did the California cities of Burbank and Carmel. Cities not normally known as traditional military strongholds like Des Moines, Indianapolis and Boston made it. Even the police department of little Round Lake, Ill., population 9,333, appears on the list.
But not the city of San Marcos, whose city manager, Rick Gittings, is a former Marine, or Oceanside, which has Camp Pendleton as its next-door neighbor.
There is a caveat. The information on the Pentagon's list is self-reported by human-resources offices, or reported by the reservists. It's quite possible the Pentagon doesn't know the extent of the support our public and private employers provide.
Federal law does not obligate employers to provide extra pay to reservists. Basically, it's a good-will gesture and a show of patriotism, but more importantly, it's a sign of loyalty to an employee who's willing to go beyond the norm, who makes a commitment to our nation's safety.
There's no question a reservist's call to duty places a financial burden on a company and adds yet another level of stress on an already overloaded staff, which must pick up that person's work , often without a part-timer or temp to fill in during the deployment.
In fact, in the Times' corresponding article, National Guard Association President Stephen Koper hints that potential employees should skirt around the fact that they're reservists when interviewing. Not exactly a ringing endorsement for the patriotic fervor of corporate America, which loves to wave Old Glory at its corporate meetings and in ads every chance it gets.
It's also a very telling indictment that business and government's color scheme in San Diego comes in shades of green , not red, white and blue.
Rick Bell is the San Diego Business Journal's managing editor.