SAN DIEGO PEOPLE
Monday, September 27, 2004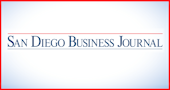 SAN DIEGO PEOPLE
Awards & Recognition

John Pemrick Lewis has earned membership in the 2004 Leadership Council for Planco. Lewis is a registered representative with Walnut Street Securities, Inc., earning a Leadership Council membership for producing more than $1 million in Hartford Leaders sales in a calendar year. Neil Dymott announced that Constantine Buzunis, a shareholder with the firm, has been honored with the Past President's Award by the San Diego chapter of the American Hellenic Educational Progressive Association. Buzunis has served as chapter president from 2001-2004. Registered Rep. magazine has named Linda Stirling and her team among "America's Top 50 Advisors" in its annual listing. Stirling is a Merrill Lynch financial adviser with more than 17 years of financial service and financial planning experience. The list recognizes advisers for their commitment and involvement in shaping their company's strategic direction. Chuck Abdelnour, the longest serving city clerk for the city of San Diego, has been named a 2004 recipient of the Significant Sig Award, one of the Sigma Chi International Fraternity's highest honors. The award recognizes alumni members whose achievements have brought honor and prestige to the Sigma Chi name. Abdelnour, a member of San Diego State University's class of 1960, has been city clerk for 27 years. Chris Cramer, the chief executive officer of Karl Strauss Brewing Co., and his wife, Kristen Cramer, have been awarded the Spirit of Life Award, the most prestigious honor presented on behalf of the City of Hope. The award is presented to individuals who have made an invaluable contribution to both their community and their profession. The Cramers were selected to receive the award by leading members of the San Diego community for their exceptional achievements as entrepreneurs, industry leaders and philanthropists.

Pridestaff's La Jolla office, part of a national staffing organization, has been honored with the 2004 Quality Continuum Certification from PrideStaff headquarters. The award is given to local offices that consistently provide clients with solutions that create repeat and referral business.

The San Diego County Water Authority's Olivenhain Dam and Reservoir project has been named the 2003 Project of the Year by the San Diego/Imperial Counties chapter of the American Public Works Association. The award was given in the environmental category for projects that cost more than $10 million. The project was selected based on effective planning, design and construction management, enhancement to public service, community relations and environmental mitigation.



Banking and Finance

Tony Calabrese has been named president of Point Loma Community Bank. Calabrese brings with him more than 25 years of financial services experience and community involvement. Cassie Yamaguchi has joined Auerbach & Gussin Insurance and Financial Services, Inc. as an agent/office manager. With more than 10 years' experience in customer service, Yamaguchi will be responsible for managing the daily operations of the office, along with servicing the group health insurance and individual accounts.

Construction and Design

Carol Spong, owner of Carol Spong, ASID/Interior Design, has been elected president of the San Diego chapter of the American Society of Interior Designers for 2004-05. Spong has more than 20 years' experience in all aspects of interior design, specializing in residential remodeling and child care design for schools, day care centers, museums and residences. Mayer Roofing Inc. recently promoted Robert Osuna and Rick Hart to senior project managers. Osuna has been with the company since 1993 and will be responsible for San Diego, Orange and Imperial counties. Hart has been with Mayer for more than 10 years and will oversee operations in Riverside and San Bernardino counties.

health care and biotech

Janell Marshall has joined the National Multiple Sclerosis Society, San Diego area chapter, as an information and referral specialist. Marshall will be involved in providing information about MS to health professionals, as well as serving people with MS.

Media and Marketing

LJG Promotions recently appointed Andre Padilla, Gina Von der Kret, Tom Greer and Anna Gai as vice presidents for the agency. Padilla has been with LJG for more than nine years and will continue to manage many of the company's interactive projects and oversee the creative team. Von der Kret has been with the company for eight years and will focus on the design, functionality and overall usability of LJG's Web-related projects. Gai will be responsible for developing and implementing the overall design and creative strategy for all Web-based and print projects and has more than 10 years' experience in print and interactive design. Greer, a licensed architect with 24 years' experience in design and project management, will continue to oversee interactive, 3-D and video projects as a team leader for LJG. LJG has hired Anthony Astolfi as an interactive software engineer, Sarah Mickle as an administrative assistant and Rachelle Morgan to assist the marketing team with day-to-day marketing and promotional events.

Miscellaneous

Toyota Material Handling, USA, Inc. has promoted Payman Shabbak to strategic planning manager. Shabbak will oversee long- and short-term planning, economic forecasting, strategic initiatives and communication with the Industrial Truck Association. Shabbak is also a member of the ITA statistics committee. Sally Baldridge has been promoted to chief operating officer for Jazzercise, Inc. Baldridge has been with the company for 22 years, previously serving as chief financial officer. In her new position, Baldridge will be responsible for directing and administering the operations of the company and will continue to handle the company's legal issues and manage bank relationships, CPA relationships and cash management.

Real Estate

Tammy Tidmore has joined the Willis Allen Co.'s Rancho Santa Fe office. Tidmore has an extensive background in real estate investing and plans to focus on assisting clients with the hands-on experience of buying a home. The San Diego division of John Laing Homes has added Marianne Browne to its local management team. Browne will be involved in all aspects of the company's San Diego County operations, with chief responsibility for all advertising activities, model home merchandising, sales training, feasibility and pricing. Browne previously served as vice president of sales and marketing for the Orange County division of John Laing Homes. Re/Max Associates' Vicki Yourczek, Dan Dettmann and Patty Keck have been listed among the top-producing 100 Re/Max sales agents in California. Yourczek has made the list for four consecutive months, joining Re/Max in 2000. Dettmann, now in his 15th year with Re/Max, has made the list for five consecutive months and has been ranked among the top producers in the North County coastal area for the last several years. Keck has been with Re/Max for 13 years and is in her 23rd year of real estate sales. Charles B. Kopp has joined the team of Kohn & Burke at Re/Max Distinctive Properties office as a commercial and residential real estate sales agent. Kopp has been selling real estate since 1972 and previously operated his own real estate brokerage specializing in site selection and market analysis.

, Compiled by Sharon Gunderson



Executive Spotlight

Michelle Conyers

Right Management Consultants has named Michelle Conyers vice president of client services. The transition and organizational consulting firm has a global network of more than 300 service locations worldwide. Conyers will be based in the Del Mar office and is responsible for building relationships and securing business with major corporations throughout San Diego County. Previously vice president of international sales at Viadux, a provider of broadband access solutions, Conyers has more than 20 years' experience in business development, marketing and training. Conyers began her business development career at Hewlett-Packard in Minneapolis, where she helped substantially increase market share. The vice president of the Southern California region of Right Management Consultants, Eric Olson, is excited about the experience and skills Conyers brings to the team. "Her proven business development and marketing skills are invaluable to our team and will help solidify Right as the premier HR services firm in San Diego County," said Olson. Conyers earned an M.B.A. from the University of Minnesota. Conyers also volunteers with the American Heart Association, Shea Therapeutic Riding Center and UC San Diego's Cancer Center.

Philanthropy

Leo Hamel & Co. fine jewelry presented a check for $3,500 to the Muscular Dystrophy Association at the annual Jerry Lewis Labor Day Telethon. The telethon raised $59.4 million for MDA.

The Sycuan Band of the Kumeyaay Nation raised $50,000 for Children's Hospital and Health Center at its 14th annual Sycuan Golf Tournament. More than 340 participants represented the 61 sponsoring companies in the tournament.

Sundt Construction, Inc.'s Sundt Foundation presented five organizations with charitable grants this quarter. The Autism Society of America-San Diego County chapter was awarded $1,500, and Canine Companions for Independence-Southwest chapter, the Florence Griffith Joyner Youth Foundation, San Diego Hospice & Palliative Care and the San Diego Youth and Community Service all received grants for $1,000 each. The Sundt Foundation was established as a way for employees to give back to the communities where they work and live.