SAN DIEGO PEOPLE
Monday, September 20, 2004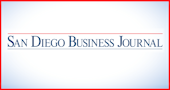 SAN DIEGO PEOPLE
Awards & Recognition



San Diego Mayor Dick Murphy has been named "Politician of the Year" by the Library Journal. Murphy was recognized with the award for his commitment to libraries in San Diego, including his support of building and improving many libraries throughout the city. George and Beverly Ottiano, owners of the Maids Home Services in San Diego, received the Maids Home Services' President's Club Award. Their franchise was recognized as having outstanding achievement in both sales performance and growth during the past year.



Banking and Finance

San Diego-based Household International, Inc. appointed John J. Haines as managing director of the company's auto finance business. Haines has more than 15 years of management experience in finance, operations, risk management, asset remarketing, auditing and accounting. Patti Bradfield has been appointed senior manager for First Bank & Trust's new Downtown San Diego office. Bradfield will be responsible for planning, directing and managing the marketing, business development and sales activities of the branch. Bradfield has 30 years of banking experience and opened First Bank's first San Diego branch. Neil NePote was appointed regional manager and senior vice president of the University Towne Center branch of Pacific Mercantile Bank. NePote's responsibilities will include managing the branch and all commercial lending activities, as well as increasing the bank's market share in the San Diego region. NePote has more than 28 years of banking experience.

Construction and Design

Erin Riley has been promoted to marketing director for Rilington Communities. Riley has been with the company since 1998 and will be responsible for all marketing and advertising campaigns for the Rilington communities throughout Southern California.

health care and biotech

The Grossmont Healthcare District board of directors has selected Barry Jantz chief executive officer, effective Nov. 15. Jantz will succeed Nancy E. Smith, who is retiring at the end of the year. Jantz has served the district as a community relations consultant and was also financial services manager in the facilities department at Kaiser Permanente. Jantz is vice mayor for the city of La Mesa, as well as a director for the East County Economic Development Council and the San Diego Association of Governments. ResMed Inc. has promoted Kieran T. Gallahue to president of ResMed Global. Gallahue will be responsible for managing ResMed's global business operations, including sales, marketing, clinical education, new business development, operations and finance. Charles F. von Gunten, M.D., Ph.D., is the new editor-in-chief of Journal of Palliative Medicine. Von Gunten is the medical director for the Center for Palliative Studies, San Diego Hospice & Palliative Care, as well as an associate clinical professor of medicine at UC San Diego. Von Gunten directs one of the largest fellowship programs in palliative medicine in the United States and serves as chairman of the American Board of Hospice and Palliative Medicine.

high-tech and manufacturing

Indus Technology announced the promotion and appointments of Jon Wakefield as vice president of Space and Naval Warfare Systems operations, Ron File as vice president of business development and Steve Chiodini as vice president of eastern operations. Wakefield will lead the recently won Spawar Major Services Acquisition contract efforts. File has strategic business experience with emerging companies and will assist in helping Indus be managed at a higher national level. Chiodini will be responsible for leading the eastern region of the Indus team nationwide.

Law

Jon Maki and Carrie Hellwig have joined Sheppard, Mullin, Richter & Hampton LLC's Del Mar Heights office. Maki and Hellwig specialize in the life sciences industry and join the firm as members of the intellectual property practice group.

Miscellaneous

Allison Small has been appointed as marketing director for the Jewish Community Foundation. Small's experience in public relations, marketing and nonprofit management will assist in increasing the visibility of the Jewish Community Foundation in San Diego. Rick Rubin has been appointed as president of the San Diego chapter of Consulting Engineers and Land Surveyors of California. Rubin, a senior vice president with RBF Consulting's San Diego office, aims to increase the organization's visibility and continue its leadership role on state and local issues. CELSOC is a nonprofit organization of private consulting engineering and land surveying firms, dedicated to protecting the general public and promoting the use of the private sector in the development of the state. Tom Fleming has been selected the new president and CEO for the San Diego Data Processing Corp. Fleming will be responsible for the day-to-day management of the company, including financial oversight, staffing and personnel, technology operations, and implementation of board policy and daily operations to provide the city with IT services. La Casa Center for Autism has hired Trish Marshall as director of development. Marshall brings more than 30 years of corporate experience to La Casa. La Casa is dedicated to enhancing the quality of life for individuals and their families impacted by autism. William D. Jones has been appointed to serve as a director of the board for the Southwest Water Co. Jones is the president, CEO and owner of CityLink Investment Corp. and serves as director of Sempra Energy, the San Diego Regional Economic Development Corp. and the San Diego Padres. Jones has 15 years of experience in municipal government. The San Diego North Economic Development Council selected Gary Knight as its interim president and CEO. Knight has been the council's director of membership services for the last five months and a key member of the membership team for more than a year.

Nonprofit

Joyce Glazer has been named an ambassador for the Salvation Army as a member of the National Advisory Board. Glazer previously served as past president of the Salvation Army Metropolitan Advisory Board and has worked extensively to improve the San Diego community for more than 15 years, serving on boards and committees throughout the city.

Real Estate

Deborah Sortino has joined the real estate team of Kohn & Burke at the Re/Max Distinctive Properties office. Sortino joins the team as a real estate sales agent. Jean Brown has joined Re/Max Associates' La Mesa office. Brown is a real estate sales agent specializing in East County neighborhoods.

, Compiled by Sharon Gunderson





Executive Spotlight

Dan Novak

Dan Novak has been appointed vice president and general manager of Channel 4 San Diego. Novak will be responsible for the overall operations of the station, as well as managing all advertising sales efforts for Channel 4. Novak was the architect of the award-winning regional network, which televises 250 live sporting events annually. He also spearheaded the 2004 launch of Channel 4 San Diego in high definition, including 110 Padres games and other live events. Mike Miller, regional vice president of Cox Media, praised Novak as being the ideal candidate to lead the station to continued success, saying, "Dan has been the driving force behind the creation, growth and innovation of Channel 4 San Diego since its launch in 1997, and his vision and leadership have led the network to a dominant position in the regional sports and media market." Novak joined Cox Communications in 1991 and has held a number of positions with the company, including programming manager and vice president of programming and communications. In addition to his responsibilities with Channel 4, Novak serves as chairman of the San Diego International Sports Council.