SAN DIEGO PEOPLE
Monday, September 13, 2004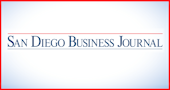 SAN DIEGO PEOPLE
KEY HIRES AND PROMOTIONS

Banking and Finance

Security Business Bank of San Diego hired Tom Welch and his team to expand its U.S. Small Business Administration Lending efforts. Welch will act as senior vice president of SBA Lending, bringing with him 15 years of experience in SBA lending and more than 25 years' experience in banking. Narelle MacKenzie has been promoted to senior manager, international tax, by PricewaterhouseCoopers. MacKenzie joined the firm in 2001 and serves as a director of the San Diego chapter of CalCPA. Kurt Mars has been promoted by PricewaterhouseCoopers to senior manager, working in the San Diego office since 1999. PricewaterhouseCoopers also promoted Christopher Hughes, Catherine Moore and Tessa Whisler to manager and Elizabeth Hoppe to senior associate. Hughes and Moore have been with the firm since 1999, Whisler since 2000, and Hoppe since 2002.

Construction and Design

Bilbro Construction Co. has appointed Doug Mellinger to corporate officer and shareholder, a new ownership position with the company. Mellinger has been with the company for seven years, serving as senior project manager.

Education

The University of San Diego has appointed Sandra Ciallella to assistant vice president for development. Ciallella will coordinate USD's team of development officers from various departments as they work to raise funds to secure the university's goals for growth.

High-tech and manufacturing

Tachyon Networks has appointed Denisse Goldbarg as senior vice president of sales and marketing. Goldbarg will be responsible for driving the company's sales and marketing initiatives, including product development, channel strategies and targeting new customers.

Miscellaneous

Mark McShane and Ron Fletcher have joined Shred-it San Diego as project coordinators. McShane and Fletcher will be responsible for sales support, customer satisfaction and client retention. Scott Davis also joins the Shred-it team as an account manager. City Heights Business Association has hired Enrique Gandarilla as its new executive director. Gandarilla recently completed a master's in public administration at the John F. Kennedy School of Government at Harvard University. Gandarilla brings with him more than 15 years' experience working with nonprofit and government organizations.

Real Estate

PM Realty Group has promoted Cybele Thompson to regional vice president of San Diego. Thompson was previously the general manager of La Jolla Executive Tower. As regional vice president, Thompson will oversee San Diego operations and client relations. N.N. Jaeschke, Inc. has hired Mille Couture to assist in the management of homeowner associations in San Diego County. Couture has more than 20 years' experience in the real estate management industry. Keila Hurtado also joins N.N. Jaeschke as an administrative assistant. Villages of Loreto Bay has appointed Lynelle Berkey as division president for its new West Coast office in San Diego. Loreto Bay's San Diego office will serve as the headquarters for the company's West Coast sales and marketing team. Team members include sales associates Jane Blakely, Margy Drew, Cecil Hall, Ralph Hughes, Jack Liddy, Keith Peterson and Kelson Werner. Char Hangen and Erin Phalen also join the San Diego Loreto Bay office as sales assistants. Michael Paeske has joined Commercial Facilities, Inc. Paeske will be responsible for managing a portfolio of commercial properties under management contract and developing a consulting group to assist property owners. Amanda Porter has been named sales and marketing coordinator for Shoreline Communities. With five years' experience working in real estate and financial business, Porter will be responsible for overseeing the company's sales, marketing, advertising and public relations activities. Stewart Strange joins RE/MAX Associates' Mission Valley office as a real estate sales agent and loan broker. Strange has 13 years of experience in real estate sales. RE/MAX Associates also welcomes Dara Chantarit to its La Jolla office. Chantarit will serve as a real estate agent planning to specialize in North County coastal properties.

Philanthropy

The Corky McMillin Cos. have donated $5,000 to the police academy program at Otay Ranch High School. The donation will be applied toward a state-of-the-art obstacle course for the Otay Ranch High School Academy of Criminology and Justice. The obstacle course will be available to the students of Otay Ranch High School, along with the Chula Vista Police Department and other law enforcement officials. Robert Bihak, owner of Countywide Mortgage, donated a working antique firetruck to St. Vincent de Paul Village. The truck will be kept at the village's 500-acre Campo ranch, in a region susceptible to fires. Space and Naval Warfare Systems' team of employees, led by Kim Mallis, raised more than $20,000 for the 2004 Southern California MS Challenge Walk. Mallis, who was diagnosed with multiple sclerosis in 2003, helped the team raise $11,000 last year and plans to continue raising money and awareness.

, Compiled by Sharon Gunderson

Executive Spotlight

Alice Scharper

Alice Scharper, Ph.D., has been appointed dean of National University's School of Arts & Letters. Scharper replaces Elizabeth Shutler, Ph.D., who announced her retirement this summer after serving as dean for seven years. Scharper served as an associate professor of writing and communication for the last five years, teaching at National University's academic center in Redding. Before coming to National University, Scharper taught at several institutions in Northern California, including Shasta College, San Francisco State University and UC Davis. She also served as visiting associate professor for the Department of Economics' English section at Keio University in Tokyo. As a recipient of the Fulbright Award in American studies, Scharper also developed and taught courses in American literature, history and culture at Johannes Gutenberg University in Mainz, Germany. Scharper holds a Ph.D. in American literature from UC Davis, a master of arts degree in English from San Francisco State and a bachelor of arts degree in humanities from UC Berkeley.