Attractions Push Summer Tour Season to New Heights
Monday, September 13, 2004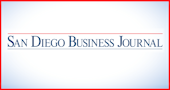 Attractions Push Summer Tour Season to New Heights
Local Lodging Industry Tops the Nation's Leading Destinations
BY CONNIE LEWIS
The beaches were nearly empty the day after Labor Day.

No more long lines to get on the new splashdown ride at SeaWorld San Diego. Ample parking at the San Diego Zoo.

The last of the summer tourists have gone home. And by most indications, they left more money behind than they did last summer.

According to the latest statistics from Tennessee-based Smith Travel Research, San Diego's lodging industry topped the charts of the nation's leading destinations with an occupancy rate of 82.6 percent for a 28-day stretch ending Sept. 4. Honolulu ran a close second with 82.2 percent and New York City was third with 80.4 percent.

San Diego County's hotels also beat their occupancy rate of 77.6 percent during the same 28 days last year.

Statistics from the San Diego Convention & Visitors Bureau also show hotel occupancy for the first half of the year is up 4.2 percent to 73.8 percent, compared with the same six months in 2003.

Average room rates rose to $121.22 during the recent 28-day period, up from $112.72 in the same time frame last year. The total revenue from the rooms that were let averaged $100.10 each vs. $87.52 in the same period a year ago.

"People are willing to pay a higher amount and more than they'd pay to vacation in some other places, because they feel they're getting a greater value in San Diego," said Cami Mattson, the chief executive officer of the San Diego North Convention & Visitors Bureau.

More Hotel Rooms, More Visitors

But the occupancy figures are more significant, considering that there were 1,680 new hotel rooms to fill this year, bringing the total to 53,185. That includes the 750-room addition at the Manchester Grand Hyatt Hotel, which opened in July last year, and the April opening of the 512-room Omni San Diego Hotel.

ConVis hasn't crunched all the numbers to arrive at a visitor spending total for the summer, but the tally for June was $456 million compared with $412 million in the same month last year.

"The stars were well aligned, when you think about it," said Reint Reinders, the chief executive officer of the San Diego Convention & Visitors Bureau.

"There were a lot of new attractions," he said, referring to the San Diego Aircraft Carrier Museum, the Journey to Atlantis ride at SeaWorld, several new exhibits and rides at Legoland California, and the Dino Mountain exhibit at the San Diego Wild Animal Park.

"It was also Petco Park's first year, so that was all good and the media wrote about it," he said. "And in just the last few years, San Diego has been the focus of more travel writers, so that's benefited us."

Although leisure travel has picked up, and the individual business traveler is re-emerging on the scene, Reinders worries that hotels, which often slough off unoccupied rooms to Internet booking agencies, are spending more on "middleman" commissions than they ought to be.

But Rob Cameron, director of marketing for the Manchester Grand Hyatt, predicted that will change.

"I think all the hotels and chains are looking for ways to have more say over their inventory," he said. "We're trying to push our business to our own Web sites and not have to go to third-party agencies, like we do now."

Meanwhile, the hotel's occupancy rate was up this summer during the Manchester Grand's first full season, with 1,625 rooms to fill. He declined to say how much business had increased. But he said the hotel beefed up its sales effort to tout the new room supply and meetings facilities.

"Transient business was strong," Cameron said. "We had great weather. Gas prices weren't too high, so people drove to San Diego weekend over weekend."

There were fewer "citywide" conventions in town this summer than last, said Joe Terzi, the regional manager for Starwood Hotels and immediate past chairman of ConVis' board, referring to large-scale events that fill Downtown hotels.

"But that was made up by more leisure tourists," Terzi said. "We've also been seeing a continual increase in business travelers over the last six to nine months."

But unlike Chicago and New York, where business-related travel has come "roaring back," San Diego isn't considered a major financial center. So the bulk of its tourism influx will continue to be leisure travelers, particularly from Orange and Los Angeles counties and the Arizona desert cities of Phoenix and Tucson, Terzi said.

"There are about 12 million people just in Orange County and Los Angeles, and San Diego is a prime destination for a short-haul getaway," he said.

Nationwide reports show that attendance at theme parks rose this summer. And SeaWorld, with its $80 million roller coaster that debuted in early summer, rode the upward trend.

"Summer was a big home run," said Ed Litrenta, SeaWorld's vice president of marketing. The company doesn't report gate figures, but Litrenta said the park beat last summer's numbers. Having a new ride was the main draw, but a stronger than usual co-op marketing promotion with the Automobile Club of Southern California, offering three tickets for $99 , about $1 less than two adult admissions , helped.

San Diego's weather, its beaches and proximity to other large cities make it a tourism magnet. But each year presents new challenges, Reinders said, citing San Diego's budget woes that took a toll on funding for the bureau, the county's primary arm for tourism marketing. This came at a time when the county's lodging industry faces ever-increasing competition for the tourism dollar.

"Many of the national brand hotels in San Diego are top performers and are considered the best in their company's chains," he said. "So when you're at the top, you're always on someone's radar screen as the one to beat."

Reinders also worries that because attractions can't make major investments to add new rides and exhibits every year, they may find it hard to equal this summer's attendance next summer.

"What do they do for an encore?" he said. "Disneyland will have its 50th anniversary next year, and there will be tremendous promotions and advertising surrounding th at. And we're close to Anaheim, so that's something to think about."

Mattson is confident that San Diego's hotels will be able to respond to "pressures in the marketplace."

"This is not a new phenomena," she said. "They know who the competition is and how to set their rates, offerings and promotions to outsell them."

She's not worried about local attractions losing business either.

"They come up with something new every year," she said. "And it doesn't have to be a new ride. Most San Diego tourists are repeat visitors. They'll come back and visit the attractions. They like what's familiar to them. They like to stay in their favorite hotel, or visit their favorite beach or restaurant."