Word on the Street: Scene a Boon for Biz
Monday, September 6, 2004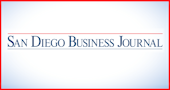 Word on the Street: Scene a Boon for Biz
BY CONNIE LEWIS
By scratching the oldies, Zydeco and blues to focus on popular bands such as AFI, Foo Fighters, Jimmy Eat World and Social Distortion, Rob Hagey Productions Inc.'s Street Scene 2004 was not your parents' concert.

That was the point.

Hagey, who heads the namesake La Jolla company, said his decision to open both days of the Aug. 27-28 concert to all ages was a matter of applying Business 101. After attendance had declined at three-day events in previous years, when the under-21 crowd was relegated to Sundays , last year's event drew a disappointing 60,000 , he began studying the trends.

"We'd never targeted any one age group," Hagey said. "Somebody might buy a ticket to see the Sex Pistols or the Goo Goo Dolls or the Doors, on one particular day.

"But there weren't many who wanted to go all three days because they didn't want to see the whole array of bands."

Realizing that the stages that drew the largest crowds featured hip-hop and punk bands, which appealed to the younger set, Hagey decided to concentrate this year's talent lineup on that niche. He also pared the number of bands from a total of 89 that played on nine stages last year to 15 per day on three stages this year.

The plan worked. A crowd of 100,000 , many under the age of 21 , came, and tickets, which sold for $39.50 per day and $65 for both days, were in high demand.

Hagey declined to cite revenue figures, but a marketing study by his company in 2001 estimated that Street Scene generated $12 million to $15 million in spending in the Gaslamp Quarter.

Because of infill development in the Downtown core , Street Scene's original home , it was moved to an East Village area in the vicinity of Petco Park that offered 620,000-square-feet of open space, which Hagey hopes will be available for at least a couple of more years.

"I think that we can use this venue for at least two more years, although (ballpark developer) JMI Realty has big plans for more development in and around Petco," he said. "But I definitely feel there's a need for open areas for the long term."

There are some things Hagey would like to change next year, such as eliminating fencing on the Park Boulevard median to allow greater "ebb and flow" of pedestrian traffic, distributing performance schedules, and rethinking the gates so the crowd can enter more quickly. But Hagey thinks he's found the right ingredients to make Street Scene a success; as such, next year's event will be much like this year's edition.

Gaslamp Business Brisk

The foot traffic on Fourth and Fifth avenues on both Friday and Saturday nights during Street Scene was robust. Restaurants and bars were full, and sidewalk patios were crowded.

After selling 50 advance $45 per-person dinner/concert tickets, which were available through the Gaslamp Quarter Association and Street Scene, Bruce Farahani, who owns Bandar Persian Cuisine on Fourth Avenue, said he tried to get more. But they were sold out.

"Business was great both nights," Farahani said. "I'd say 70 percent of our guests were newcomers; most were younger people, and 30 percent were regulars."

Dan Flores, the associate executive director for the Gaslamp Quarter Association, said that of the 21 member restaurants, each was offered 100 tickets, and all went quickly. They covered admission for one night and an entr & #233;e priced from $15 to $20.

"People mingled between the concert and Gaslamp area and we heard anecdotally that Saturday was a very good day for the restaurants," Flores said.

Ed Netzhammer, the general manager of the Omni San Diego Hotel, adjacent to Petco Park, said Street Scene was responsible for "100 percent booking" on both Friday and Saturday nights. Security was beefed up. Extra guards were on hand and special front-door key cards were issued to guests.

"Some minor scuffles broke out outside," Netzhammer said. But all in all, things went as expected for the concert event.

Ryan Beilharz, a manager at Urban Outfitters on Fifth Avenue, said "business was on par with last year" during the concert weekend.

"We didn't do any more or less, but overall, business has picked up this year," he added.

Long Lines

Eric Monforte, a kitchen manager at his family's restaurant, Cocina del Charro in Escondido, who managed one of about 120 food booths at Street Scene, said people waited roughly 15 minutes in line to buy his burritos.

"It was good for us, but bad for the people waiting in line," he said.

David Trzeciak, a Street Scene first-timer, vowed never to return because of the long lines.

"I knew I'd be packed in like a sardine, but I didn't expect to wait in line for 30 minutes or more to buy a beer or use a bathroom," he said. "And then, because I had a drink in my hand, I had to stand a half-mile from the band."

But the 25-year-old Del Mar resident admitted he may be over the hill, or approaching the summit, as far as the target Street Scene concertgoer is concerned.

"I think they should add an extra day exclusively for the 21-and-over set," Trzeciak said. "Have it on Sunday."